 Want to trial for the Hampshire FA Girls Centre Of Excellence 2015 / 2016?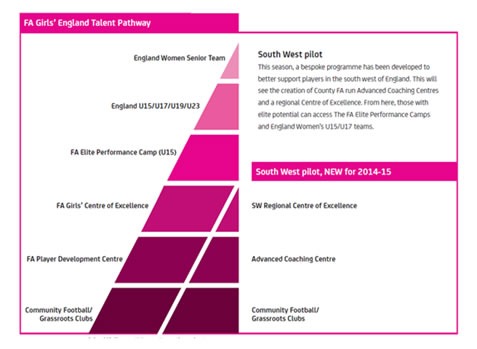 The trial season is amongst us and there is a fantastic opportunity to be part of the elite female structure through Hampshire FA Girls Centre Of Excellence which is an integral part of the England Women's Elite Talent Pathway, being one of 30 (nationally) FA licensed, quality assured, programmes providing player development opportunities for elite female players at U9s, U11s, U13s, U15s and U17s.
The Centre of Excellence Fixture Programme see's the girl's competing against some of the best young players nationally. Fellow Centre's of Excellence in our region include:
·

       
Brighton & Hove Albion
This is the highest level of participation available to girls outside of the International set up, and serves as platform for recruitment into the youth National teams. The Centre of Excellence structure is the next transition in the pathway from grass roots leagues in the County and surrounding areas i.e. The Winchester & District Girls Youth League, Southampton & District Girls Football League, The New Forest Girls Youth Football League, The North East Hants Sunday Youth Football League, and The Surrey County Women's & Girls League. This is highlighted in the FA's diagram titles 'FA Girl's England Talent Pathway'.
The Centre operates a multi-disciplinary approach to player development incorporating aspects of LTAD (Long Term Athlete Development).  Players have access to comprehensive Performance Services including, Testing protocols Functional Movement Screening (FMS), Performance Analysis, Performance Nutrition, Strength & Conditioning, Prehab and Rehab programmes, GPS monitoring and physiotherapy services.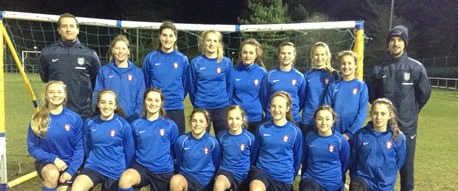 The technical programme is led by Lois Fidler, former England U17 Women's National Coach, one of only 4 females in the country to hold the UEFA Pro Licence. Lois brings experience of every level of the talent pathway, as well as extensive experience of the game at international level. Hampshire FA brings together different areas of expertise and a model of good practice that is at the forefront of developing female elite football players.
We have already made significant strides in refining our existing programme. This has been supported by a successful working relationship with Southampton Solent University. The Centre of Excellence will be using Test Park as a training venue for next season, which is another positive step forward.
Anyone interested in exploring opportunities within the Hampshire Girls Centre of Excellence Programme should visit the website
Trial Registration is now open for all females players born between 1999-2008 (inclusive), see link below: