 Abhishek Bachchan Visits Leicester To Support Indian-Origin MP Keith Vaz


A Bollywood A-lister graced the streets of Leicester to show his support for a local MP of Indian-origin.
Abhishek Bachchan visited the city to aid the election campaign of 58-year-old MP Keith Vaz, who is the longest-serving British-Asian MP to date.
Keith, who has been officially nominated the local Labour Party candidate for the upcoming polls, was joined by Abishek in a public question-and-answer session at Peepul Centre with over 350 residents from the city in attendance.
The actor answered questions about his life and career at the event in which he was presented with a personalised Leicester City football shirt. The pair then embarked on a tour of Belgrave Road and Uppingham Road to the delight of thousands of adoring fans of the big screen star.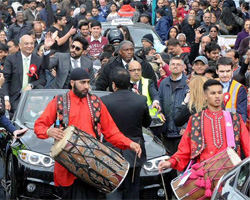 Bachchan said at the event: "I am here for Keith. He works so hard for Leicester and I am delighted to be here to help him today. Keith is a close family friend. He possesses so many values I hold close to my heart for our politicians; he is warm, generous and kind. I know that he is a true leader for the Indian community in the United Kingdom, who does great work for people of Indian origin."
"It was an honour to have one of Bollywood's megastars with us in Leicester today. Our city was bouncing with the joy and excitement of thousands of adoring fans who came out to see Abhishek," said Keith.
The MP added: "Abhishek was wonderful, and people adored him. He is a close friend, and for him to take time to come to Leicester is truly special. The thousands who came out to Belgrave Road and Uppingham Road were awestruck. My only request to Abhishek is that he does not stand to be the Member of Parliament for Leicester East, as I would not have a chance!"