 City Council Opens Investigation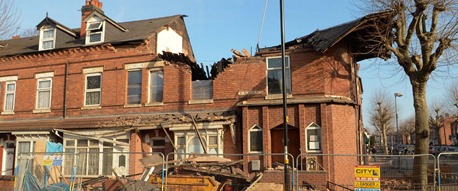 Birmingham City Council has opened a formal investigation into how the roof of a mosque, shut two weeks ago, has collapsed.
Following an assessment of the building, the council has contracted Acivico who deals with faulty buildings, to find out the cause of the collapse.
The mosque, situated in the Watford Road of Sparkbrook, has been closed for two weeks so construction work could be carried out on the building.  
West Midlands Fire service has spoke of its relief that no-one had been in the building at the time, after it was called to the scene. The departments Highgate section was sent out along with a specialist dog unit from Leicestershire.
A statement from Acivico, stated, "A meeting took place with a demolition contractor at 9.30am this morning to assess the immediate danger and to survey the building. "Remedial work to make the building safe will then commence.
"A further update regarding the intended course of action will be supplied this afternoon following the assessment this morning."
Local resident, Abid Shah, "I heard a sound like a huge lorry had driven past – there was no explosion. I went outside and there was dust in the air and rubble across the path and in the road. It was quite a shock. I am just so relieved that no-one has been hurt."