 Asks Party to Withdraw Unfound Allegations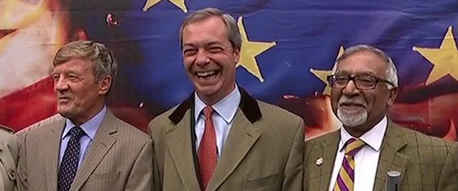 A former UKIP MEP who defected to the Conservative Party is to take legal action against his former political party leader, Nigel Farage.
Amjad Bashir's lawyers have written to Mr Farage asking him to publicly withdraw a range of allegations he made in January and pay damages adding that the he could, otherwise, face possible libel action in the High Court.
A UKIP spokesman said, "UKIP does not take part in trial by television and it "could not commit further."
Mr Bashir, an MEP for Yorkshire and the Humber, joined the Conservatives in January, stating that UKIP had become a "party of ruthless self-interest" and had a "ridiculous" lack of policies.
However, in a dramatic turn of events, and hours before his defection was to be made public, he was suspended by UKIP, over "unanswered financial and employment questions".
At the time Mr Bashir dismissed all the allegations.
In a letter addressed to Mr Farage, Mr Bashir states, "There can be no other conclusion that [the allegations] were published as part of a deliberate campaign on the part of UKIP and its most senior officers to discredit Mr Bashir in retaliation for his decision to join the Conservative Party."
"Contrary to the impression given by the press release, [Mr Bashir] had no forewarning of what UKIP had decided to allege," the letter says.
In a statement, Mr Bashir said, "As soon as the various allegations were made it became clear that I had no choice but to pursue legal advice.
"I have taken that advice, we have compiled a case, and this now remains in the hands of my lawyers."
He said he would not comment further on the case while it is still ongoing.