 Mayor of Solihull Recieves International Women's Day Accolade

˜I feel so humbled to receive this honour and attribute this to every woman in Solihull" 
Councillor Mrs Kate Wild, Mayor of Solihull
Mayor of Solihull, Councillor Mrs Kate Wild, was honoured by Shruthi UK, a local South Asian arts organisation as part of International Women's Day.
Councillor Wild, who was a special guest at The Birmingham Thyagaraja Festival, was recognised for her invaluable contribution in empowering women of all cultures and encouraging them to pursue their passion and interests, which ultimately benefits everyone.
All around the world, International Women's Day represents an opportunity to celebrate the achievements of women while calling for greater  equality. This year's theme was Make It Happen.
Accepting her certificate from Shruthi UK, Councillor Wild said, "I am thrilled to receive this honour. I feel so humbled and attribute this to every woman in Solihull."
The former English teacher was elected to Solihull Council in 1994 to represent St Alphege ward and was Cabinet Member for Community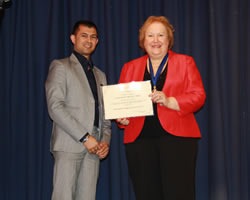 Services and the Environment until being elected as Mayor in 2014.
Married to husband Jim, himself a former councillor, Councillor Wild has three sons and eight grandchildren and lives in Knowle.
Also honoured was Her Majesty's Deputy Lieutenant of West Midlands, Satinder Kaur Taunque. Satinder was awarded the OBE in HRH The Queen's 2013 Birthday Honours list for voluntary and charitable services to Inter-Ethnic relations and to diverse communities in the West Midlands.
Both award-winning women were special guests at the Birmingham Thyagaraja Festival which saw aspiring singers, musicians and dancers bring to life the songs, rhythms and teachings of Thyagaraja, one of India's legendary composers of Indian and Carnatic classical music.
Solihull MP Lorely Burt paid a glowing tribute to both women. The Liberal Democrats MP, who is Business Secretary Vince Cable's Women in Enterprise Champion, said,
"Congratulations to Councillor Wild and to Satinder Taunque on being recognised for their remarkable contributions to society. They are both role models in their own rights and worthy recipients of their honours. Well done!"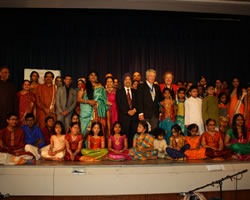 The festival, which was organised by Shruthi UK, an artist-led South Asian arts organisation based in Solihull, took place at the Shirley Centre in Solihull.
Shruthi UK, which this year celebrates its 10th anniversary, is the brainchild of Chithra Ramakrishnan, who hails from a family of talented musicians and is a Fellow of the Royal Society of Arts (RSA).
On March 27, Shruthi UK in partnership with Autism West Midlands will host a free Bharatnatyam dance workshop in support of World Autism Awareness Day 2015 and is keen to work with all Special Needs schools in the West Midlands and beyond. To find out more visit 
www.shruthiuk.com