 Asian Women Mark Their Place in History

Sunday, March 8th 2015 marks International Women's Day. A day in which the strengths, achievements and accomplishments of women, all over the world are acknowledged. International Women's Day is an opportunity to celebrate the achievements of women in our community who have defied all expectations.

This year's theme is #MakeitHappen. The campaign will be encouraging effective action for advancing and recognising women. So this year we will take a look at women from the Asian community who have excelled in their individual industry.
Actress: Meera Syal
Born in Wolverhampton and having been awarded both a MBE and CBE, Meera Syal is no stranger to the British entertainment industry. Three decades of work dedicated to stage and screen, the actress has become synonymous to as the most iconic south-Asian actress to grace both television and theatre.
Author: Huma Qureshi
Her book, In Spite of Oceans, recently won the John C. Laurence Award for helping to improve understanding of culture through writing.While the book tackles many aspects of life in Britain for immigrants from the Indian subcontinent, its themes of grief and loneliness are universal.  
Businesswoman: Parvy Rakar
Wedding planner and accomplished businesswoman, Parvy Rakar is living the high-life. Having ditched a 16-year-old career as a business manager in the care industry, she decided to follow her heart and embrace her dream.  And the move proved just right after she was announced as Wedding Planner of the Year in 2014.
Chef: Dipna Anand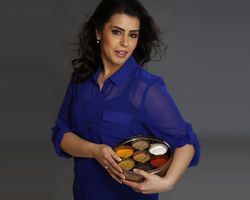 Award-winning chef, Dipna Anand comes from the ultimate dynasty of Indian cooking. Her deliciously healthy meals have mesmerised the taste buds of many restaurant-goers. British Curry Award-winning Dipna prides herself on enlightening people about the health benefits of curry – that it can be healthy and nutritious,
Fashion: Gaby Manchanda
Known for her bespoke collections as well a being the business partner to Noreen Khan, Gaby Manchanda has established herself quite firmly within the British Asian fashion industry. With a personal touch and a stroke of elegance, her styles and designs have had a real impact on fashion industry.
Media: Sameena Ali-Khan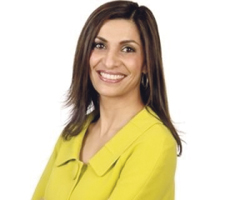 Having started her career on commercial radio, Sameena Ali-Khan has become a household name. She was asked to do a screen test which transferred into radio and television for the BBC in Manchester, Birmingham and London. She's won several awards including the RTS Best On Screen Personality.
Entertainment: DJ Nav
Officially known as the World's Premier Asian Female DJ, Nav has defied many stereotypes. Her unique talent, combined with her passion for classic as well as modern Punjabi music, she has been able to firmly cement herself in a purely male industry.
Short Film: Deeyah Khan
Deeyah Khan is an internationally acclaimed documentary maker. Her work, usually, highlights human rights issues, female empowerment and freedom of expression. The experience of living between different cultures, both the beauty and the challenges, dominates her artistic vision and has won her several international awards.
Sports: Samera Ashraf
Having successfully scooped up a Pride of Edinburgh Award and an Asian Woman of Achievements Award for her sporting achievements, Samera Ashraf has fought every obstacle thrown at her. Culture, domestic abuse and self harming were just some of the barriers faced by the 31-year-old. 
Community: Shaista Gohir
Referred to as one of the most powerful Muslim woman in Britain, Shaista Gohir has used her own personal experiences to tackle the abuse and violence women face. Creating the Muslim Women's Network UK by transforming a small informal group of Muslim women into the only national Muslim women's organisation in Britain she has created a platform of empowerment.