 Celebrations Commence With House of Commons Visit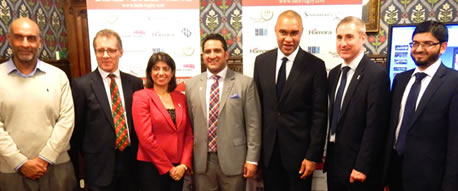 The British Asian Rugby Association (BARA) recently celebrated its tenth anniversary with a reception at the House of Commons.
Established in 2004 by dual code international Ikram Butt (England Rugby League and Pakistan Rugby Union), BARA has been a force for good in terms of promoting community cohesion across the UK through both codes of the oval ball game.
The House of Commons event, made possible through the sponsorship of Greg Mulholland MP, featured a host of keynote speakers including former professional footballer and Football Association anti-racism champion Paul Elliott CBE and Mark Pawsey MP, Chair of the Commons and Lords Rugby Club.
In addition Seema Malhotra MP, Shadow Minister for Preventing Violence against women and girls, was present to talk about the White Ribbon Campaign that was recently adopted as a cause by BARA. National Sport England board member Hanif Malik of the Leeds-based Hamara centre and Qari Asim MBE, Imam at Leeds Makkah Mosque also delivered speeches.
Paul Elliott said: "It's important that young people have the opportunity to thrive by getting involved in sport. BARA is an organisation that makes sport fun and free of prejudice and that can only contribute towards bringing everyone together."
Qari Asim MBE added: "BARA is an association that works in communities and with communities and has played an instrumental role in bringing people together particularly after events such as the 7/7 bombing in London."
Ikram Butt commented: "We've come a very long way in the past decade with many effective initiatives and projects delivered within communities across the nation that seek to build bridges and cement community relations through sport.
"Both codes of rugby represent excellent vehicles for promoting social progress and I would like to put on record my hearth felt thanks to each and every individual and organisation that has supported our efforts since 2004 especially Greg Mulholland MP whose support made this event possible.
"Now, more than ever, we need to promote positive messages about anti-racism, discrimination and domestic violence and BARA will continue to keep banging the drum for progressive initiatives such as these.
"I look forward to BARA celebrating 20 years of success in 2024!" added Ikram who was the first player of Asian heritage to represent England at either code of rugby and starred for Leeds, Featherstone Rovers and London Broncos. He went on to play for Pakistan's rugby union team and is widely recognised as one of the most influential British Asian role models after picking up a number of awards for his work with BARA.
The House of Commons event was supported by Stradbrokes Solicitors, My Lahore restaurant, Malik Halis student accommodation, the Hamara Centre in Leeds, the British Asian Trust and AIS accountants.