 Premier League Side Hunt for New Star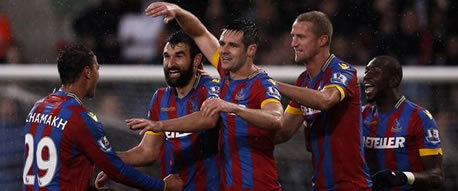 Promising young Indian footballers will compete for the chance to train at the Crystal Palace Academy in a ground-breaking initiative by the Premier League Club.
A Crystal Palace delegation, led by club ambassador Mark Bright, will be at Barclays Premier League Live, the Premier League's international fan park in Mumbai next month. The weekend of events on December 13-14 will showcase the world's most-watched teams.
Crystal Palace has teamed up with Mumbai City FC and Star Sports to stage a trial on Thursday December 11th for the best 16-19 year-olds in the region.
The 12 most promising youngsters will then be invited to show their skills at the weekend event in front of thousands of spectators.
The winner of the Play for Palace competition will come to London to train with the club's hottest young prospects. The Crystal Palace Academy has a long tradition of developing young talent – former Academy members include Premier League stars Victor Moses, Wilfred Zaha, Nathaniel Clyne and Wayne Routledge.
Mark Bright, who scored more than 100 goals during his Palace career, said: "This will be the chance of a lifetime. The winner of the competition will get a fantastic experience playing at the Academy and then go back to India to become an ambassador for Palace.
"This is a unique initiative. Everyone has a favourite local team and favourite overseas team – we want football fans in India to follow us.
"We know cricket is the number one sport in India, but football is global and it would be great to see an Indian-born player in the Premier League one day. They would become an idol and an inspiration".
Crystal Palace chief executive Phil Alexander said: "We are very excited to be going to India to show ourselves to a new army of fans. The Premier League is booming in India and it's a great chance for us to extend the club's reach".
The CPFC Foundation team, is also holding two days of coaching sessions for youngsters aged 12-16 at two local schools, led by UEFA 'A' Licence coach Gary Mulcahey, and in partnership with the Magic Bus charity. There will also be an evening workshop for coaches and volunteers at local clubs.
Palace's initiative is part of a long-term plan to build lasting relationships in Mumbai and improve footballing standards in the region. The club has strong roots in south London but has a global following and recognises that football is becoming increasingly popular in India with the launch of the Indian Super League.
Mumbai City FC is one of the leading clubs in the newly established league. Co-owned by Bollywood actor Ranbir Kapoor and business colleagues Bimal Parekh and Kayque G. Saldanha, the team is coached by former England midfielder Peter Reid, who can call upon ex-Premier League stars, Freddie Ljunberg and Nicolas Anelka, in his squad.
Star Sports is Asia's leading sports TV networks and is the official Barclays Premier League rights holder in India and the region.
A Mumbai City spokesman said: "India, and Mumbai in particular, has a lot of football talent waiting to be harnessed and promoted. This initiative will provide a great platform for the youth of the city to showcase their skills and win the opportunity of a lifetime".
Former Premier League stars Robbie Fowler and Peter Schmeichel will also be at BPL Live where fans can watch Premier League matches on big screens, see the Barclays Premier League trophy and learn more about the top clubs.