 The PropheC ft Fateh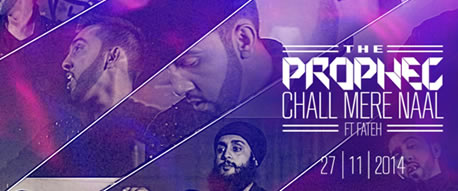 After topping the charts with his recent album, "Futureproof" Singer, Song Writer & Producer , The PropheC is set to releases his next single "Chall Mere Naal" featuring Fateh. Fans have been eager to hear the full track since a snippet of the song was released earlier this summer. 
Known for his heart touching emotional style of music, The PropheC brings his signature sound to a more upbeat number this time around alongside Fateh , Whom fresh off of his Bollywood debut adds his own unique style and delivery to the song. 
The video for the song has been shot in various locations around the UK and Toronto, Canada. Showcasing a more urban side of The PropheC, the video is slightly different to what fans normally expect from him.
Earlier this year, his sophmore album "Futureproof" was the number 1 album on world charts in over 6 countries. Following this success, he has toured around the world performing in one country after the other.. While each release has been a milestone, he hopes to add one more to the collection on November 27th with the release of "Chall Mere Naal".