 Fall Short on 20-18 Loss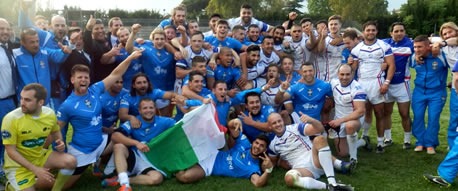 The British Asian Rugby Association (BARA) team, led by rugby league greats Garry Schofield OBE and Ikram Butt, put on a superb show in the first ever White Ribbon Trophy match before losing out 20-18 to a strong Italy team drawn from the cream of the country's burgeoning Revolution League.  
An Italian penalty just two minutes from time eventually decided what was an absorbing contest from start to finish played out in front of around 500 enthusiastic and curious spectators at the Stadio Tre Fontaine, home of Roma Rugby Club.
The BARA team started off strongly, taking advantage of a hesitant Italian defence to take the lead on two minutes. Danny Gill of Kippax Knights touched down in the corner rounding off some slick passing following two quick tap penalties for holding down in front of the posts.
The Italians hit back with some powerful running that tested out BARA's defensive capabilities and came close to touching down but for some handling errors. Several outstanding last ditch tackles also helped to keep the Italians out.
The action swung from end to end before New Earswick All Blacks prop Joe Hnesh crossed for BARA's second try from close range on the half-time whistle.
It was clear that a slender 8-0 lead it the break against a fit and powerful Italian side was never going to be enough but BARA increased their lead to 12-0 on 52 minutes when a cross field kick from Adam Murtza of Rochdale Mayfield was gathered up by Millom full back Anthony Dixon who touched down in the corner.
The Italians then stunned the tourists with three converted tries in six minutes to take a 18-12 lead going into the final quarter. Dixon grabbed BARA's fourth try on 65 minutes with a smart scoot under the posts from 15 yards. The conversion from Adam Murtza made it all square to set up a grandstand finale that had a vocal crowd on the edge of their seats.
A penalty awarded to Italy on 78 minutes proved crucial and there was no way back for the BARA team. "It was an outstanding game that went right to the wire," enthused BARA founder Ikram Butt "and we are all very proud of how our lads performed against a very fit and well drilled Italy side."
Garry Schofield commented: "I'm disappointed that we lost. I thought we could have won this game but there's definitely a bright future ahead for Italian rugby league based on this display and I'd mark out several of our players, including Ali Hassan of Saddleworth Rangers and Richard Streets of North Herts Crusaders, for praise."
The White Ribbon Campaign aims to end violence by men against women and got the full support of everyone taking part.