 Meet the Candidates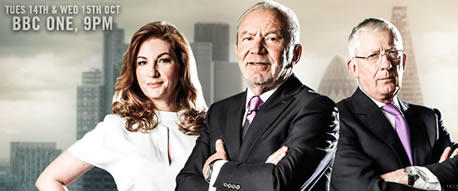 The Apprentice is back with a new batch of ambitious entrepreneurs seeking to demonstrate their commercial insight and business sense to stay out of the firing line. There's a £250,000 investment at stake and the chance to go into a business partnership with Lord Sugar.
Over the course of 12 tough tasks, the 20 candidates will be whittled down until just one victor remains. And plenty of sparks are set to fly in the boardroom along the way!
Each week the budding entrepreneurs will be divided into two teams – led by designated Project Managers – that lock horns under the watchful eyes of Lord Sugar's advisors Karren Brady and Nick Hewer.
Bianca Miller
Bianca, who lives by the motto 'it's nice to be important, but it's important to be nice' would describe herself as determined and ambitious, but says she can be quite pedantic and hard on herself.
Chiles Cartwright
Chiles currently owns two companies, a consultancy business and a building materials supplier. Prior to owning his own businesses, he spent nine years working in management for international consumer brands and at 24 was managing a team of 200 and therefore says team management is one of his best business skills.
Daniel Lassman
'Lover of banter' Daniel runs his own company planning and running events, including pub quizzes, for companies and individuals across the country. He describes himself as motivated and determined and he says he always plays to win. His first job was a year's contract to play for Hornchurch FC, which wasn't renewed due to injury, before working as a market trader in the family-run business.
Ella Jade Bitton
Hardworking and ambitious, Ella Jade's interests include design and fashion, and her first job was working as a fashion studio assistant for Jonathan Saunders. Enthusiastic about pitching and marketing business ideas, Ella Jade negotiated an interior design concession stand in Harrods for her family business when she was only 16. A
Felipe Alviar-Baquero
Colombian-born Felipe is a solicitor for an international law firm and was selected as one of the Top 100 Colombians in 2012. An organised entrepreneur with 'vision', his biggest business achievement to date is designing and launching a children's play area, and he was also chosen to carry the Olympic Torch on its route to the London 2012 games.
James Hill
James, who says he's had to fend for himself since the age of 16, first started in business by setting up a hand car wash in his local area. His entrepreneurial spark began aged 13 when he sold chocolate bars to his classmates and he believes his 'strength of character' will see him through Sir Alan's tough recruitment process.
Jemma Bird
Jemma is passionate about the arts and is a trained dancer and dance teacher, having first taught dance at the age of 13. She prides herself on her customer service skills and says she is organised and creative, but perhaps a little too honest for some!
Katie Bulmer-Cooke
Katie is a personal trainer and has been awarded Fit Pro UK Fitness Professional of the Year 2013, IFS UK Personal Trainer of the Year 2012 and Fit Pro & Life Fitness Worldwide Personal Trainer To Watch 2012 Top Ten. Although Katie has worked as a health and fitness expert for Argos and currently creates and markets her own work-out programmes and DVDs, she has no formal business training.
Lauren Riley
Only child Lauren is a family solicitor, specialising in family law including divorce, separation, finances and property, with a focus on achieving fair outcomes for her clients. She can keep a cool head in a stressful situations (when others may waver and lose focus), but she struggles with taking no for an answer and letting others have their own way.
Lindsay Booth
Lindsay has been a swimming instructor for 14 years and is the founder of a swimming academy – developing her business from teaching just one child, to renting local pools to teach hundreds over the past four years. She says she is determined to be successful, and that her passion is teaching children to swim as it is a skill that could one day save their lives.
Mark Wright
Australian-born Mark is a Sales Manager supporting internet marketing consultants and he has received repeated recognition for the highest revenue growth within his company. He has over nine years' experience in selling within the digital, health and fitness industries, though his first job was washing cars at his dad's business.
Nurun Ahmed
Nurun works full-time as a marketing officer while also running three of her own businesses. She says she is thoughtful, considerate and a multitasker, and the business brands that inspire her include Innocent, as it is a prime example of a UK start-up that shook up its industry. Her proudest business achievement is setting up three small businesses within 18 months.
Pamela Uddin
Assistant Brand Manager Pamela graduated from university with first class honours, and received a scholarship to complete her masters in International Business. Since leaving university, she has worked in brand marketing and is inspired by brands such as Nike, for their inspirational and motivational advertising, and Paddy Power, for their tongue in cheek communication.
Robert Goodwin
Highly organised in business, Robert is responsible for the global marketing of an international brand in the sports nutrition field, including managing a campaign for the company's largest ever advertising spend. His first job was as a tennis coach at the age of 15, as well as working in his uncle's art shop. He is inspired by business figures including Harry Selfridge because he created inspirational market-leading retail services, and brands such as Net-A-Porter for their luxurious, aspirational qualities.
Roisin Hogan
Roisin is a qualified Chartered Accountant who is now following her dream of starting her own business. She lists businesswoman Bethenny Frankel as one of her business inspirations, as she saw a gap in the market to start Skinny Girl Cocktails and sold it for a huge profit. She says she is confident, driven and creative, and being a calculated risk taker who 'listens to her instincts' has also made her a keen poker player in her spare time.
Sanjay Sood-Smith
Sanjay is a senior manager responsible for the online sales strategy across three national banking brands. In his previous role as a bank manager, he increased the ranking of his branch from the 900s nationally to 30th in the space of six months – and aged just 23. Subsequently, he was put in charge of 14 retail branches in London.
Sarah Dales
Sarah works as an executive assistant for a top financial firm, having previously brought her passion for problem solving and eye for detail to companies including Goldman Sachs, while also running her own hypnotherapy and match-making businesses. She describes herself as hard-working, positive and tenacious, though she can repeat herself if she feels she is not being listened to. She is a trained hypnotherapist, and says her proudest business achievement to date is setting up her hypnotherapy practice on Harley Street.
Scott McCulloch
Scott first worked as a trainee resource consultant for a recruitment company after leaving school, and is now responsible for global strategic partnerships within companies in the clinical development field. He previously held roles in business development in clinical research, travelling all over the world to work with emerging markets. He describes himself as determined, trustworthy and hungry to succeed and admires brands such as Pfizer and GSK and businessmen such as Peter Jones.
Solomon Akhtar
Solomon works at a creative agency while also running his own company, a technology business within the social media field. He has also created and managed events for students including a retail store 'lock-in' and group yacht trip round Croatia. Although he now makes money from entertaining students, he wishes he'd spent less of his own cash on having a good time at university, in favour of investing it in his business.
Steven Ugoalah
Before moving to London, Canadian Steven spent a year travelling the Arctic to do community development social work with remote Inuit communities. He currently runs his own social work consultancy as well as managing a property portfolio.