 At Least 5 Dead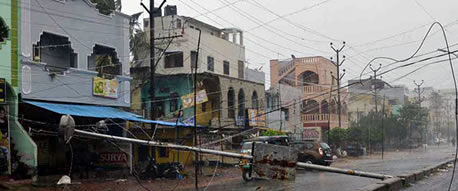 (Reuters) – Cyclone Hudhud blasted India's eastern seaboard with gusts of up to 195 km per hour (over 120 mph), uprooting trees, damaging buildings and killing at least five people despite a major evacuation effort.
The port city of Visakhapatnam, home to two million people and a major naval base, was hammered as the cyclone made landfall, unleashing the huge destructive force it had sucked up from the warm waters of the Bay of Bengal.
Wreckage was strewn across Visakhapatnam, known to locals as Vizag. Most people heeded warnings to take refuge, but five were killed by falling trees and masonry, and thousands of homes were damaged, emergency officials said.
The chief minister of Andhra Pradesh, the state that bore the brunt of Hudhud's onslaught, said the extent of damage would only become known after the storm abates.
"We are unable to ascertain the situation. Seventy percent of communication has totally collapsed … this is the biggest calamity," N. Chandrababa Naidu told Headlines Today television.
"We are asking people not to come out of their houses," Naidu said, adding that damage assessment would start on Monday. "We are mobilising men and material immediately."
Prime Minister Narendra Modi called Naidu and promised "all possible assistance in relief and rescue operations", his central government said in a statement.
The low toll reported so far followed an operation to evacuate more than 150,000 people to minimise the risk to life from Hudhud – similar in size and power to cyclone Phailin that struck the area exactly a year ago.
After a lull as the eye of the storm passed over the city, winds regained their potency. Forecasters warned Hudhud would blow strongly for several hours more, before wind speeds halve in the evening.
"Reverse windflow will be experienced by the city, which will again have a very great damage potential," L.S. Rathore, director-general of the state India Meteorological Department (IMD), told reporters in New Delhi.
The IMD forecast a storm surge of one to two metres (three to six feet) above high tide that could result in flooding of low-lying coastal areas around Visakhapatnam, Vijayanagaram and Srikakulam.
TERRIFYING WIND
A Reuters reporter in Visakhapatnam said the storm had smashed his hotel's windows and flooded the ground floor. It was difficult even to open the door of his room, he said, as wind rushing through the corridors drove it shut again.
"I never imagined that a cyclone could be so dangerous and devastating," said one businessman who was staying in the hotel. "The noise it is making would terrify anyone."
An operations centre in state capital Hyderabad was inundated with calls from people seeking help, including 350 students stranded in their hostel without food or water, said K. Hymavathi, a top disaster management official.
Visakhapatnam port suspended operations on Saturday night, with its head saying that 17 ships which had been in the harbour were moving offshore where they would be less at risk from high seas. The city airport was closed and train services suspended.
The IMD rated Hudhud as a very severe cyclonic storm that could pack gusts of 195 kph and dump more than 24.5 cm (10 inches) of rain.
The cyclone was strong enough to have a "high humanitarian impact" on nearly 11 million people, the Global Disaster Alert and Coordination System (GDACS), run by the United Nations and the European Commission, said.
The evacuation effort was comparable to one preceding Cyclone Phailin, credited with minimising fatalities to 53. When a huge storm hit the same area 15 years ago, 10,000 people died.
Hudhud was likely to batter a 200-300 km stretch of coastline before losing force as it moves inland, forecasters said.
According to the IMD, peak wind speeds will drop to 60 kph by Monday afternoon. Hudhud is expected to continue to dump heavy rains in northern and northeastern India and, eventually, snow when it reaches the Himalayan mountains.