 Rupinder Kaur Reports on the 'Strictly Dancing with Wolves' Charity Competition


This month saw the return of local charity competition 'Strictly Dancing with Wolves'. The event was a twist on the popular TV reality series, raising money for 5 deserving charities. A host of local celebrity personalities and willing novice individuals teamed up with local dance schools from around the Midlands to compete the competition. Rupinder Kaur reports on the glitz and glamour of the ballroom.
On Saturday 26th September I joined 500 other people who ditched watching Strictly Come Dancing on BBC to attend the live Wolverhampton charity version!
The event, organised by football fan group Punjabi Wolves Supporters, saw 12 novice contestants matched with professional dancing partners take to the stage to raise funds for 5 charities. 
My reason for attending was to support the amazing Gurprit Bains who was taking part. You may recall she is super mum to Gaurav Bains, the 3 year old from Tipton who was the inspiration for many in our community to join the Bone Marrow Donor Register following his diagnosis of a serious illness. Like many others we were inspired to join the register and contribute to his parent's campaign to drive awareness within our community.
Gurprit mentioned she was interested in taking part in the show when details were first released, especially as the charity Delete Blood Cancer ,who offered much help to them when they needed it the most, was one of the chosen charities. How she found the time to commit to training whilst juggling her two children and busy home life is beyond me but she did and it was evidenced for all to see!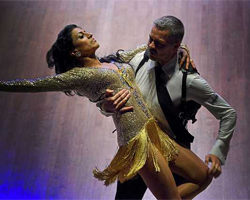 All 12 dancers were brave and their passion was very obvious, however it is safe to say Gurprit stole the show when she took to the dance floor! Her Jive with dance partner Nathan Barker was electric! Judge Taz said they had 'set the floor on fire'!
We were delighted when Gurpit went through to the final stages with 2 other couple who took part in a dance-off before the judges crowned her & Nathan as winners! From the shock on her face it was clear that Gurprit wasn't expecting to win but having seen all the dances she was a very worthy and deserved winner!
Speaking to The Asian Today, Gurprit said, "All I wanted to do was raise as much money as possible and get through the routine with possibly some good scores and comments from the judges. Winning was the icing on the cake!! I am so grateful to all my friends and family that came along and supported me on the night and those who donated."