 The 'Happy New Year' Star Speaks to The Asian Today's Sunny Malik
The team of Happy New Year, this year's most anticipated Bollywood movie, descended into London to promote the film and perform at The O2 for Slam+ The Tour. Happy New Year is a rollicking, flamboyant, colourful, witty, action-packed musical bonanza.
Director Farah Khan; actress Deepika Padukone; actors Shah Rukh Khan, Abhishek Bachchan, Sonu Sood, Boman Irani and Vivaan Shah charmed the UK media at a press conference and entertained screaming fans at the world famous venue during their stay in the British capital.  
Speaking at the press conference Sha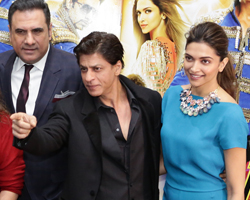 h Rukh Khan said, "Everyone has to do a film like Happy New Year in their career, and I am blessed to do this. The worst thing about the end of this tour is that we are going to miss each other the most."
On working with Shah Rukh Khan, Deepika Padukone said, "When you've worked with someone it makes the process so much easier. He tells me, if we are doing a particular scene together, he will tell me what to do and I will always trust him. I will never question it."
Bollywood royalty Abhishek Bachchan sat down with The Asian Today's Sunny Malik to talk about the film, posting his praises through director Farah Khan's Twitter account and wearing tutus in the film.
How did you manage to hijack your director, Farah Khan's Twitter account almost every day during the making of the film? 

(Laughs) It is actually quite easy. She is very irresponsible with her phone. She just leaves it around. Farah can't see very well and wears glasses, so when she doesn't have them around, she keeps her phone really far away and types in her access code. All of us actors know the code and she just keeps leaving her phone all over the place. Also, being the director she is very busy on the set. Hence, it is quite simple for me. The tough part is to get the beautiful images of her so that I can post them (laughs). The funny thing is that she doesn't realise it for hours and then I get a call in the middle of the night.
How did you get involved with Happy New Year?

Farah first spoke to me about Happy New Year very soon after Om Shanti Om released.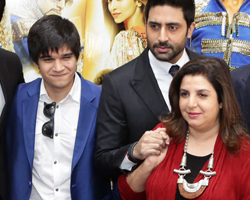 We are friends and meet socially and one day she told me that she wants to make a film about the world's worst dancers and a heist.  She said that she wanted me to be a part of it. I thought that she was joking. Farah has a sense of humour and first I didn't know what to say. We had discussed the project and then it was put on a back burner. She revived the film and she spoke to me again. It all fell into place from there. I have literally been a part of it from inception and screenplay writing. Farah likes to discuss her work a lot. She used to discuss the plot points and asked for feedback. She kept me very involved in the entire process.
The male actors in the film have worn some really strange costumes for some scenes. How did Farah manage to convince you?
I think that was a very big concern for her, especially the ballet tutus that we wore in the film. I don't know if it's a bad thing, but none of the actors ever had an issue. I don't know about Deepika (smiles). The tutus were the first thing everybody jumped into. Sonu (Sood) was freakishly comfortable in them and took them home as well. That was never an issue. From day one, when everybody signed the film, they knew the space of the film. It is mad and fun.
What are your expectations from the film after Dhoom:3?
I have very high expectations from the film. What I love about Farah is her unabashed love, passion and dedication to masala Hindi cinema. Happy New Year is exactly that. To add to that, it has a wonderful star cast, it is wonderfully mounted and dramatic, funny and emotional. It is a true representation of what Bollywood stands for.  
Happy New Year is produced by Red Chillies Entertainments Pvt Ltd and distributed by Yash Raj Films, releasing in UK cinemas on 23rd October.