 Chetna Makan found her undoing in the semi-final stage of the contest

Great British Bake Off's Chetna Makan has been eliminated in the semi-final stage of the competition after failing to make the cut with judges Paul Hollywood and Mary Berry.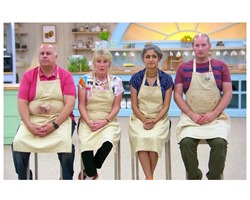 The Indian-born competitor took on the challenge of creating treats in a week themed on patisserie alongside her three remaining contestants when she left the competition.
The 36-year-old resident of Broadstairs in Kent who dazzled judges and viewers alike with her preference of strong flavours soon became the unofficial "Queen of Flavour" in the show, bringing together traditional dishes and Indian spices.
Despite falling out of favour with the judges on a number of occasions, failing specifically with structure and layering when she attempting to make baklavas and a German schichttorte cake, the fashion designer did however earn the star baker accolade during her time on the show, once during the sixth week of the competition.
Mother-of-two Makan voiced her amazement at having gotten so far.
"I never thought in a million years that I would get to the semi-final, I never dreamed of that so I can't be sad that I had to leave," she said.
"I feel I have come through it as a strong person and tried to remain calm in most situations in the tent, even though some of them were quite stressful.
"My baking has improved and I have learned from the other bakers, just little tips and observing their attention to detail and perfection."
Makan has left the remaining contestants – Richard Burr, Luis Troyano and Nancy Birtwhistle – to battle it out in next week's final.