 Naveed Zafar, 35, faces a string of allegations due to the incident

A middle-aged man from Alum Rock is facing a string of charges after being arrested following a clash between police and Free Gaza protesters at a busy Tesco supermarket on Saturday 19th.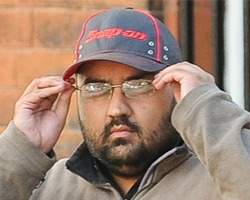 Naveed Zafar, 35, was among a group of men who had strayed from the otherwise peaceful protest held outside the Hodge Hill store and burst into the supermarket, waving Palestinian flags and causing much disorder in the store which had been full of Saturday shoppers.
The men had broken off from the crowd of 100 people who had congregated outside the store on Saturday afternoon in a protest similar to the numerous demonstrations held outside Tesco supermarkets all over the UK.
The disorder led to frightened shoppers and startled staff who saw produce being thrown to the floor by the rogue protesters. Police were called to the scene and the store was forced to close for a few minutes.
A spokesman for Tesco said: "The demonstration took place mainly outside the store.
"There was some minimal damage to a few goods inside – police were on the scene and the store re-opened after being closed for just a few minutes."
Pictures of the incident which had been uploaded to social sites showed cans of coke and fruit amongst other produce scattered on the supermarket floor by the checkout area.
West Midlands Police tweeted: "Our officers dealt with a protest at Tesco, Hodge Hill this morning where some disorder was reported. One arrested for assaulting police."
In a follow-up tweet, officers wrote: "Protest was largely peaceful among the 100 protesters but some began throwing stock inside Tesco store. Two escorted from premises."
The West Midlands Palestine Solidarity Campaign said in a tweet: "Police have violently assaulted several protesters and arrested a young man at Tesco Hodge Hill protest."
Naveed Zafar has been charged with two counts of assault, three counts of assaulting a police officer and one count of obstructing a police officer in the execution of their duty.