 The migrants had been smuggled via cargo ferry from Belgium into Essex, UK

A group of Afghan Sikhs were rescued on Saturday having been smuggled into Britain in a sealed shipping container and left to suffocate in what soon became a 'metal coffin'.
34 of the individuals, 13 of whom were children, from Afghanistan's beleaguered Sikh community were rescued by dock workers of the Tilbury port in Essex early on Saturday morning. The migrants had been smuggled onto P&O's Norstream cargo ferry from a lorry at Zeebrugge port in Belgium.
The shipping container, packed with crates of cleaning chemicals alongside its human cargo, had left the Belgium port at 9.20pm on Friday and arrived on Saturday at the Essex port via the cargo ferry at 6am. The alarm was raised half an hour later when dock workers heard 'screaming and banging' coming from one of the shipping containers and the desperate migrants were rescued at 6.37a.m.
The dazed survivors, aged between 1 and 72, were lifted out by police. Most of the victims were severely dehydrated and suffering from hypothermia and Paramedics treated the severely injured at the scene. 1 of the 35 migrants, a man in his 40s, was found to be dead.
Most of the survivors have since been discharged from local hospitals with four of the remaining victims still being treated at South Hospital. The migrants were subsequently taken to a reception centre to be questioned.
Superintendent Roe added: "Now they are well enough, our officers and colleagues from the Border Force will be speaking to them via interpreters so we can piece together what happened and how they came to be in the container."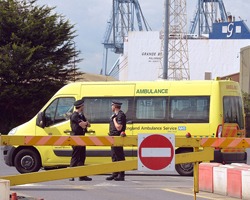 Belgian officers are working very closely with the Essex police to investigate the matter and they have high hopes of tracking down both the driver and the company of the vehicle which had originally deposited the shipping container at the Belgian port.
Officers from Belgium are combing CCTV images from the night to find the lorry driver and police are interested to know what extent the driver was involved in the illegal smuggling operations or if he was unaware of his human cargo.
Belgian police spokesman, Mr De Waele, said that it was impossible for the migrants to have climbed into the shipping container at Zeebrugge, where it had been for only one hour. According to the spokesman, not only are seals subject to 'very strict' controls, but CCTV covers the area extensively and each container is captured on camera.
"It was around 6pm so it wasn't dark," Mr De Waele said. "We think that the possibility [is that] the victims were already on the container before it was put down in Zeebrugge." 
Zeebrugge is popular for illegal human trafficking due to its size and its regular cargo ferry crossing to Britain. Mr De Waele said that tackling human trafficking is a priority in Belgium.
Stephen Metcalfe, Conservative MP for South Basildon and East Thurrock, said: "The fact that so many people appear to have travelled so far and are so desperate to get into the UK – either on their own or being trafficked – is really sad."
Migrants in France and Belgium will usually pay human traffickers approximately £1,500 per person to be smuggled into the UK.
Such migrants will often have travelled vast distances from their home countries by land through Turkey before being put into containers bound for Britain.
Superintendent Trevor Roe, of Essex Police, said: "We have had a good deal of help from partners within the local Sikh community in the Tilbury area to ensure that these poor people, who would have been through a horrific ordeal, are supported in terms of their religious and clothing needs."
Police have launched a murder inquiry in relation to the incident. They are continuing to work with Interpol in the international manhunt to locate and capture the human traffickers and the lorry driver.