 'Entertainment' Star Answers Questions About His Latest Movie

Q: Your previous movies are much more serious than 'Entertainment'. Do you think your fans will enjoy it?
A: To be honest, I'll do whatever my fans want me to! Even though they praised me a lot for Holiday, they said they can't wait for Entertainment to release.  I think the key to happy fans is giving them a little bit of everything, which I am trying to do at the moment. If my fans are satisfied with me – that is all I need because I would not be where I am today without them.
Q: Some people might say that actors are supposed to be trendsetters. Do you agree?
A: Not at all. In my opinion the real trendsetters are the viewers.We (actors) might think that something could work but if the audience says no – that is the end of it. All we can do then is just try and adapt.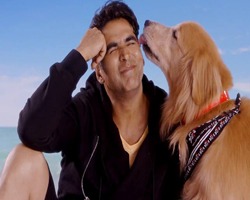 Q: Did you ever see yourself acting with a dog?
A: Not really but that's the beauty of acting! You can never predict who your new co-stars will be, two-legged or four. It's fantastic to be given the opportunity to transition from character to character and to be able to mix it up. He's definitely one of my favourite co-stars
Q: Entertainment is not the first movie where you're working with a debutant director. Do you enjoy it?
A: Absolutely!Because they are still new at their job they love to experiment and improvise – and I love that too! Especially if you're working on a comedy you need to have someone who is open to suggestions, witty and not afraid to take risks.
Q: Is it true that you lip-synced to a female voice for one of the Entertainment songs?
A: Yes, it is true – I just could not resist it. From my point of view, if you are making an out-and-out comedy why stop at anything? You can only succeed if you take risks.
Q: You have also launched quite a few newcomers. Why is this?
A: I believe in giving people opportunities. I think everyone deserves a chance to be noticed and appreciated.  Also it is my way of giving back to the industry.
Q: It took a little while before the industry and the audiences started taking you seriously as a star. How would you describe your journey?
A: My journey has been both difficult and fantastic at the same time, but I guess that's part of life. It may have taken time for people to accept that I was more than just a struggling actor. I was also very determined to succeed and you can never achieve success without working towards it and adopting a diligent, positive and honest approach to this. I was Akshay Kumar, born with nothing but good parents and God's hand on my shoulder!
Q: Did you enjoy working with Tamannaah?
A: Tamannaah is a great actress. She's a talented, fully of energy and a thorough professional. She's got a great attitude, & extremely charming, so glad she has decided to join Bollywood!!!
Q:  Tell us a bit more about 'Entertainment'?
A: I play a character that will be seen competing with a dog to inherit his father's fortune. On knowing that his father has left his property to his faithful pet, 'Entertainment', my character obviously tries to get rid of the dog, but a sudden turn of events changes the course of the story.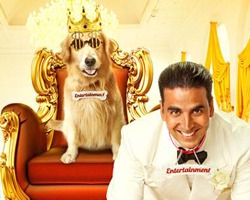 Q:  Did you have to prepare for your first meeting with Junior?
A: I had to rehearse a lot before I was even introduced to Junior.I must say I have never improvised as much as I did in this film! Junior was absolutely unpredictable – one could never know what he is about to do, you just had to follow his emotions. Everything I knew
about acting had to be thrown out of the window; we just had to do whatever made Junior happy and comfortable.
Q: Did you enjoy working with Junior?
A: It was an absolute pleasure! I have never done anything like this in my life. I really hope that this movie will not only change Junior's life but all other dogs' lives too. If this film can make a positive change, then I will be over the moon.
Q: What's your favourite scene from the movie?
A: I don't really have a favourite scene. When you are shooting with a dog all the scenes are funny in their own way.
'Entertainment' was released worldwide on 8th August 2014.