 Couple Break into Mainstream Radio
Sunny and Shay Grewal are joining BBC WM 95.6 and taking over the station's afternoon show, Monday to Thursday, from 1pm on 25th August.
The presenters are bringing their own brand of personality and fun to the airwaves of Birmingham and the Black Country, getting out and about and visiting the people and the places that make this region great.
Sunny and Shay have also previously appeared on Channel 4's BAFTA nominated 'The Family' and have also presented the weekend breakfast show on BBC Asian Network from BBC Birmingham, as well as various TV shows.
Shay says: "Sunny and I are delighted to join BBC WM which is at the heart of the community and the local people. The Midlands has always been a part of our lives and as a couple, we hope the listeners will enjoy our banter and let us become a part of their daily lives. Our show will not only entertain but inform everything that is great about Birmingham and the Black Country!"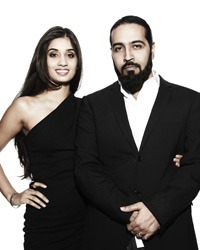 The couple will present BBC WM's afternoon show Monday to Thursday, with comedian Iain Lee presenting the show on Fridays. Iain's show will be an extension of his current BBC WM show on Saturdays, featuring more madcap phone-ins and irreverent humour. Iain starts his new show on Friday 12th September.
Danny Kelly, who currently presents the afternoon show on BBC WM, is moving to take over the mid-morning slot from Adrian Goldberg. Joining Danny will be Daz Hale as the show's roving reporter. Together they will be championing Birmingham and the Black Country, fighting for consumers' rights and holding people to account. Danny's new show starts on 8th September.
Gareth Roberts, Managing Editor, BBC WM, says of the new weekday line-up: "I'm really excited to announce these new programmes – Sunny and Shay , Danny Kelly and Iain Lee are all well-known, big personality presenters and passionate about making great shows that will get talked about across Birmingham and the Black Country."

BBC WM 95.6 broadcasts on 95.6FM, DAB Digital Radio and online via the BBC iPlayer.