 Event will be held on Thursday 27 & Friday 28 February 2014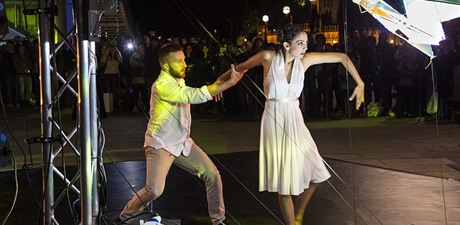 First Light & Choreogatainvites audiences to step into a world of new ideas created by exciting established and emerging dance artists.
First Light is a unique piece choreographed by award-winning Bharatanatyam dancer Seeta Patel with music composed by one of UKs' most respected and versatile musicians John Metcalfe. First Light
combines the aesthetics of contemporary and Bharatanatyam dance to create a narrative that nimbly jumps from fear of the unknown to discovery and enlightenment. Taking inspiration from the age old concepts of good overcoming evil, light overcoming darkness and the divine female energy of the Hindu goddess Durga in her nine incarnations, this work evolves through a myriad of different colours culminating in an interplay between dance, music, light and space. Originally performed under Hungerford Bridge, First Light has been updated for a theatre setting, maintaining the urban edge that made it so compelling.
Alongside
First Light, there will be two new conte
mporary commissions created by the recipients of the Choreogata Artist Development Programme(
an open application choreographic competition for dance makers to create and perform original contemporary dance work) established by Akademi, Southbank Centre and leading UK based arts organisations Gem Arts and Kala Sangam with support fromWatermans Art Centre andKadam.
FYP? – Forgot Your Password? by Divya Kasturi will be exploring technology and virtual identity whilst Detoxby Urja Desai Thakore will create complex contemporary movements from classical Indian styles."I am delighted that Urja and Divya will be creating new work as part of Choreogata. This project reinforces Akademi's main goals of developing the work of emerging artists and choreographers. 'Gata' in Hindi means 'the path' and we are excited to support these artists at the start of their choreographic journey." Mira Kaushik OBE, Director of Akademi.
First Light & Choreogatais not only an exciting opportunity for audiences to see work by one of UK's most beautiful dancers, Seeta Patel but it's also going to be a unique evening of contemporary dance by future stars of the dance world.
Performance Details
Dates:
                           Thursday 27 & Friday 28 February 2014
Time:

                            7.45pm
Ticket:

                           £10
Venue:

                          Purcell Room,
Southbank Centre, Belvedere Road, London, SE1 8XX
Box Office:
                   0844 875 0073 (open 9am – 8pm/ 7 days a week)