 Waverley School in Bordesley Green sold cakes and snacks to raise cash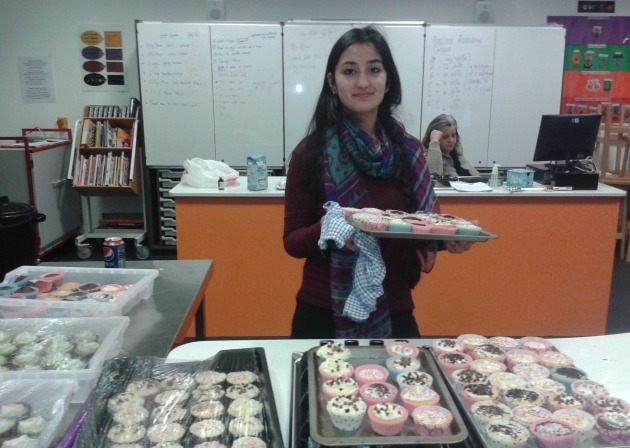 Pupils at a Birmingham school have raised more than £500 to help the survivors of Typhoon Haiyan in the Philippines.
Members of the sixth form at Waverley School in Bordesley Green sold cakes and snacks to raise cash for the global children's charity Plan UK.
The event was organised by 16-year-old pupil Kinza, who is a member of the charity's youth advisory panel.
She recruited her mum to help buy supplies and encouraged her friends to get involved baking and selling the goods.
"My mission was to raise as much as I could for the benefit of the Philippines," says Kinza.
"We sold a variety of things all around the school, including cupcakes and brownies that my friends and I had baked in school, plus soft drinks, sweets and crisps.
"From standing at the entrance of school to banging on classroom doors pestering teachers to buy crisps – we managed to sell out completely an hour before school ended.
"I would like to say a big thank you to the staff at the school and my friends for their support in making the event so successful," adds Kinza.
The teachers, including the head Mr Hanif, also got involved with baking. One teacher even created a gingerbread house which was auctioned off.
"This was an absolutely fabulous fundraising event and really brought to life the school's ethos of humanity, through the combined efforts of Kinza, students and staff all coming together for such a good cause," says Mr Hanif.
It is two months tomorrow (WEDS) since Typhoon Haiyan made landfall in the Philippines, devastating huge swathes of the country.
Thousands of people lost their lives and an estimated 14.1 million people have been affected.
Plan, which has worked in the Philippines for more than 50 years, has helped hundreds of thousands of people with food, shelter and water since the typhoon struck.
It has also supported children in returning to school, provided safe places for them to play and hosted special clown performances to bring laughter to thousands of those affected.
To make a donation to Plan's Typhoon Appeal visit www.plan-uk.org or call 0800 1300 230.