 The Launch Was Held at Buckingham Palace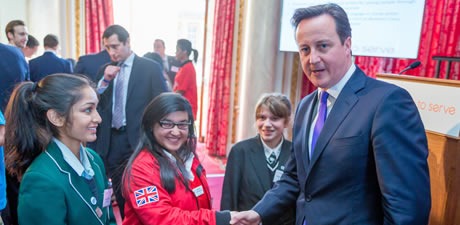 Recently, HRH Prince Charles, along with the leaders of the main political parties, launched the 'Step up to Serve' initiative. The scheme is designed to inspire and engage young people to get involved in social action. The launch was held at Buckingham Palace with up to 50 Young Social Action Ambassadors being invited. One of those invited was 18-year-old Nimra Khan from Birmingham. Hifzha Shaheen from The Asian Today
recently caught up with Nimra to talk to her about her recent experience at the Palace.
How would you describe your feelings when you found out about the honour? 
I was pretty excited to be part of a social movement and was proud and honoured to attend such an event. How was I going to wake up early and get the train to London was the last thing on my mind! I was just happy and thrilled to be attending an event where HRH Prince of Wales was going to be present and where I had the chance to encourage more people to volunteer and to make a difference to the lives of young people.
What were you being honoured for?
I was invited to represent City Year, which is a youth and education charity, to the launch of a national campaign called "Step up to Serve" which was led by HRH Prince of Wales. The aim of this campaign is to double the number of 10-20 year olds participating in youth social action by the year 2020. Guests included the likes of Prime Minister David Cameron, Deputy Prime Minister Nick Clegg and Labour Party leader, Ed Miliband. I and the CEO of City Year, Sophie Livingstone, attended this phenomenal event with incredible guests to inspire and motivate the future generations to take part in this national campaign, which will bring about great change to contemporary society.
What were your feelings about Buckingham Palace? 
We arrived via coach and once we entered we were asked to take a photograph with HRH Prince of Wales, David Cameron, Nick Clegg and Ed Miliband. Having this opportunity available to me was brilliant and I felt privileged to be inside the Buckingham Palace. We were then escorted to 'The Bow Room' where HRH Prince Charles along with the Politicians, were to give their speeches. I was asked to take a seat behind them before several cameras; this was an incredible moment as not many people my age get the opportunity to talk to the leaders of this country and being seated with personalities such as HRH, and the Prime minister made me realize that the aim of "Step up to Serve" is one that is reachable.
How did you feel when you met Prince Charles?
It felt surreal at one point but getting the opportunity to speak to him and inform him of what we do as City Year, was fantastic. He praised everyone that have or are volunteering for such an organisation as the history of City Year is an interesting one, he was also happy to know just how far we have come in our journey to "Give a year, change the world." It felt incredible to be amongst sixty other great charities that have the similar aims as City Year. For me, the red jackets stand for unity, power and our sense of culture so it was no surprise that this is the first thing HRH Prince of Wales commented on.
Who else did you meet?
Apart from meeting HRH Prince Charles, I also communicated with David Cameron, Nick Clegg and Ed Miliband. Meeting and greeting other organisations such as 'The Princes Trust', 'NCVYS' and 'The Diana Award' was a fantastic moment and because I was a part of 'Envision' it gave me a chance to communicate with new members and find out more about their service. 
Tell me about City Year? 
City Year is a youth and education charity that recruits 18-25 year olds to volunteer for the full academic year to help the future generations of this country. We visit Primary and Secondary schools across the city and act as mentors and positive role models to the young students of the school. City Year is present in Birmingham, London and across 25 other states in the US as well as being present in Johannesburg, South Africa. 
What do you take from this visit and what are your future plans? 
Apart from City Year, there were sixty other charitable organisations present at the event. Seeing them all there made me realize just how many opportunities are available for young people and how easy it is to get involved. Hearing their stories made it very clear to me that it doesn't matter where you come from, you can always do your bit to help change the world.
I am very much interested in the minds and behaviour of people and I want to carry on helping as many people as I can, this is why I have chosen to study Psychology and Criminology at university. My journey with City Year has been incredible and I thank them for giving me this opportunity to attend such a great event.