 Ather Chaudhary Has Big Plans For Unstoppable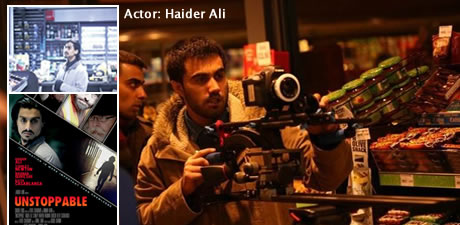 A Wolverhampton based Director is hoping to submit his film at the Cannes Film Festival.
Director Ather Chaudhary, 32, from Wolverhampton plans to submit his 30-minute short movie at the Cannes Film Festival in 2014.
Filmed at Apple Green Petrol Station in Small Heath, Unstoppable is a chronicle about "an author so consumed by his characters he hallucinates about them."
Haider Ali, 28, plays the lead character, a Business Management Graduate, from Moseley; Ali competed against 20 other potential actors for the role of Shafiq. Ali has been given the opportunity to read scripts for television programs such as Casualty and Eastenders. In addition he has met with a few Bollywood Directors like Ram Gopal Verma and will be travelling to India next year.
On his character of Shafiq, Ali stated he was in awe of the success the movie has brought. He said, "Shafiq's innocence meant I felt I could relate to him because we all have paranoid feelings. I wasn't actually aware of the whole story until the end, as I am someone's imagination."
Director Ather Chaudhary, 32, who originally is from Pakistan but trained at London's National Film and Television School said, "The film centres around the idea that creativity is more important than reality. When the writer interacts with his characters, they become part of his world."
Touching on the future of this, Ather Chaudhary says he intends to get investors to turn the movie in to a feature length film. "There are so many elements to this film. Hitchcock is my inspiration – he was the master of suspense and I want to explore that genre."
The film has been shown at the Odean Broadway Plaza. For more information visit: www.saboohfilms.com or watch a trailer at: www.vimeo.com/73806471.