 Mr Inayat was found guilty of murder and arson but cleared of attempted murder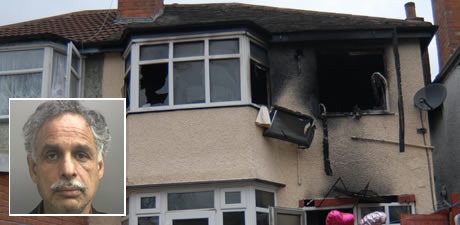 A Birmingham man has been found guilty of murdering his wife in an apparent honour killing.
Muhammad Riaz Inayat, 56, set fire deliberately to his house in a bid to stop his daughter from leaving for Dubai to marry her boyfriend. 
Mr Inayat of Cateswell Road, Sparkhill, set fire to his house on April 17th while his wife, Naika, his three daughters and a family friend slept upstairs. 
Birmingham Crown Court heard how the defendant had been desperate to stop his daughter from boarding a flight to Dubai that same day; as he believed that it would be dishonouring the family. 
Prosecutors detailed how Mr Inayat had used petrol, pouring it upstairs and downstairs and then setting it alight. Neighbours were alerted by the blaze and immediately called emergency services. Both the daughters and the family friend jumped from the first floor, which resulted in broken bones. 
Wife, Naika's body was found by emergency services; it was confirmed that the victim had died due to smoke inhalation. After an investigation the defendant was charged with murder, attempted murder and arson with intent to endanger life. 
Mr Inayat was found guilty of murder and arson but cleared of attempted murder. 
Zafar Siddique, Deputy Chief Crown Prosecutor from West Midlands CPS, said: "Crimes committed to supposedly defend a family's honour will not be tolerated in our society and today's conviction of Mohammed Inayat demonstrates that.
"Honour-based violence and forced marriages are ultimately about men policing the behaviour of women.
"This can include rights as fundamental as a choice of partner, as in today's case, and this abuse can escalate frighteningly quickly from controlling behaviour to murder.
"Inayat committed a dreadful crime, a crime which he committed because he was unable to accept the fact that his daughter wanted to get married to someone that she loved, cared for and wanted to spend the rest of her life with.
"This he felt brought dishonour to him and his family, but today's conviction has shown that the shame is his to bear.
"The CPS will not shy away from tackling honour-based violence. It is a fundamental abuse of human rights and should not be tolerated in any civilised society.
"Our thoughts are today with the family and friends of Naika Inayat."