 Keep up to date with Local Community Events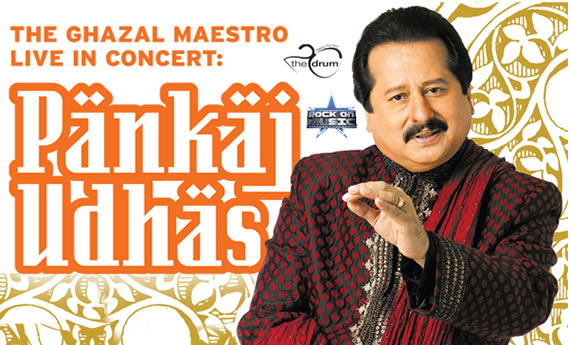 The Ghazal Maestro Live in Concert: Pankaj Udhas
The New Bingley Hall, Birmingham, B18 5PP
Sun 6 Apr,
Doors Open 6pm
Showtime 7pm
Tickets: £25, £30, £45*  
In a career spanning over thirty years and more than fifty albums, the name Pankaj Udhas has become synonymous with quality Ghazals, developing his own unique style of blending Urdu poetic verses with soulful melody.

Releasing his first album Aahat in 1980, Pankaj has traveled the world performed in every prestigious auditorium and entertaining tens of thousands of fans, collaborating with dozens of other artists and composing hits for numerous Bollywood films. Often credited with bringing the Ghazal style to the realm of popular music, in 2006 he was awarded India's Padma Shri civilian award for his contribution to Ghazal singing and social services.

 

Performing in Birmingham for one night only, this is a one of a kind performance with a truly legendary musician not to be missed!

Book Your Tickets Now

You can book your tickets for this unique performance by calling Box Office on 0121 333 2444, or visiting www.the-drum.org.uk. 

 

Tickets can also be booked from any of the following outlets:

 

Ticket Sellers – 0844 870 0000 / www.theticketsellers.co.uk 

Chilli Tickets – www.chillitickets.com

 

*Booking Fees may apply

 

We look forward to seeing you very soon…

 

The Drum Team

Thank you to all our sponsors and supporters:

---
Ashmaani DJs Events & Entertainment Presents: Aaja Nachle
Date & Time: 5th November 2013 at 5:30pm
Come together Ladies & Celebrate Eid-Diwali Ashmaani Style
Bonafide Performing their new single 'MAHI VE' for the 1st time in the UK
Tickets:
VIP Meet & Greet – £25
Adult – £20
5 Years + – £10
Children 1-5 Years – £5
All night professional male security
Tickets/Stalls: 0771 428 3003 or book online
Venue:
Desi Nawab Banqueting Hall
35-31 Highfield Road
Birmingham
West Midlands
B8 3QD
All Tickets includes food and drink
---
Conference on: Grooming & Sexual Exploitation within Ethnic Minorities of Children & Women
We would like to invite you to attend our awareness conference.
On the Tuesday 17th December 2013at 10:00am – 3:00pm
The conference is to raise awareness on:
Grooming & Sexual Exploitation within Ethnic Minorities of Children and Women
At Khidmat Centre 2A Heather Road, Small Heath, B10 9TA
We are hoping that can we count on your support and attendance.
---
Sampad return to the Arena Theatre for The Festival of Light
Saturday 2nd November, Sampad South Asian Arts return to the Arena Theatre to perform The Festival of Light at 7.30pm.
Come and celebrate Diwali, the festival of light, with an evening of divine South Asian dance and enchanting music.
Diwali is celebrated by Hindus, Sikhs and Jains throughout the world and symbolises the triumph of good over evil. People often mark it by opening windows and doors to welcome luck and good fortune, as well as putting up decorative lights and lamps or setting off fireworks.
This evocative and uplifting family-friendly event includes a special curtain-raiser performance by Wolverhampton-based Roshni Dance Academy, winners of sampad's recent Bollywood's Got Talent competition and performances from leading dance group Hina Dancers, West Bromwich-based Shree Krishna dance group and Jai Jashn Dance.
Tickets: £6
Tickets for The Festival of Light are only £6 and can be purchased at the Box Office on 01902 321 321 or online at
www.arenatheatre.info
.
Tickets for the autumn 2013 season at the Arena Theatre are now on sale and can be purchased by calling the box office on 01902 321 321 or visiting the website
www.arenatheatre.info

.
Alternatively, tickets can be bought in person from Arena Theatre, Wulfruna Street, Wolverhampton, WV1 1SE.
Speak to Malala on Saturday 26 October
Malala Yousafzai, the 16 year old Pakistani teenager who was shot in the head by the Taliban as a result of her campaigning for girls' education, will be taking part in a live interview at South and City College Birmingham on Saturday 26 October 2013.
Young people aged between 16-35 years old are invited to attend to hear from and question Malala about her experiences of fighting for girls' rights to an education, which is being filmed for the popular Dutch TV programme College Tour.
Peace activist Malala was 14 years old when she was shot in the head in an assassination attempt in the Swat Valley of Pakistan. Yousafzai became known as one of the most prominent advocates for girls' schools in 2009, when she wrote for the BBC about life in her hometown under the rule of conservative militants of the Taliban.
While on a bus from school on 9 October 2012, Malala and three other girls were attacked by two gunmen. Malala was seriously wounded in the head and neck and airlifted to Birmingham for safety reasons and for specialised treatment. The Taliban claimed credit for the shooting and vowed to kill Yousafzai for encouraging western ideas, specifically the education of women.
 Malala was treated at the Queen Elizabeth Hospital and her and her family have now settled in the city where she now attends school.
Former US correspondent Twan Huys will have the honour to interview Malala and you can ask your questions too!
People turning up on the day without having pre-registered will NOT be permitted in.
When: Saturday 26 October 2013 
Time: 12:15 arrival for 1pm start

Where: South and City College Birmingham, Digbeth Campus, High Street Deritend, Digbeth, B5 5SU. 
(The Digbeth Campus is only a short walk from the City Centre and Moor Street and New Street train stations).
How much: FREE
---
Human Appeal is proud to announce Sounds of Light 2013 – our 12 city charity concert tour! This will be the largest fundraising concert of its kind to hit the UK!
Sounds Of Light 2013 will be headlined by multi-platinum, award-winning artist Maher Zain, singer-songwriter Raef (USA) and Harris J (UK), this tour is not to be missed!
Your host will be comedian Omar Regan (USA) and your co-host will be Na'eem Raza.
The concerts will take place between 23 October – 3 November 2013 and will include charity dinners in
Glasgow
,
Sheffield
,
Leicester
and
Bolton
. Each evening promises to be lively, entertaining and also spiritually uplifting, raising much-needed funds to help those suffering in Syria.  
---
Do you have an event or notice you would like to announce?
---
DISCLAIMER:
We do not take responsibility for any of the Events or Notices that are displayed on this website. All those who are interested in taking part in any of the events or enquiring about any of the notices, should contact the appropriate organizations or individuals.
---
---