 You can speak to Malala on Saturday 26 October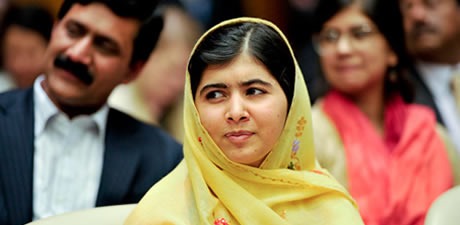 Malala Yousafzai, the 16 year old Pakistani teenager who was shot in the head by the Taliban as a result of her campaigning for girls' education, will be taking part in a live interview at South and City College Birmingham on Saturday 26 October 2013.
Young people aged between 16-35 years old are invited to attend to hear from and question Malala about her experiences of fighting for girls' rights to an education, which is being filmed for the popular Dutch TV programme College Tour.
Peace activist Malala was 14 years old when she was shot in the head in an assassination attempt in the Swat Valley of Pakistan. Yousafzai became known as one of the most prominent advocates for girls' schools in 2009, when she wrote for the BBC about life in her hometown under the rule of conservative militants of the Taliban.
While on a bus from school on 9 October 2012, Malala and three other girls were attacked by two gunmen. Malala was seriously wounded in the head and neck and airlifted to Birmingham for safety reasons and for specialised treatment. The Taliban claimed credit for the shooting and vowed to kill Yousafzai for encouraging western ideas, specifically the education of women.
 Malala was treated at the Queen Elizabeth
Hospital and her and her family have now settled in the city where she now attends school.
Former US correspondent Twan Huys will have the honour to interview Malala and you can ask your questions too!
People turning up on the day without having pre-registered will NOT be permitted in.
When: Saturday 26 October 2013 
Time: 12:15 arrival for 1pm start
Where: South and City College Birmingham, Digbeth Campus, High Street Deritend, Digbeth, B5 5SU. (The Digbeth Campus is only a short walk from the City Centre and Moor Street and New Street train stations).
How much: FREE