 A charity dedicated to providing bereavement services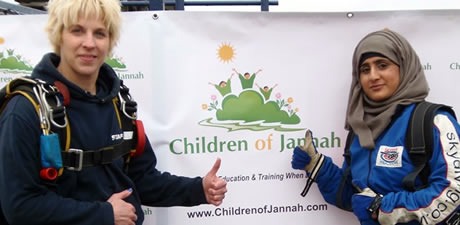 A national charity dedicated to providing bereavement services for parents and families who have suffered the tragic loss of a baby or child, has been launched as part of a week-long schedule of events.
The Children of Jannah is the UK's first charity to offer its support, guidance and reassurance to British Muslims who may have lost a baby, child or young family member. Already working with a community of over 35,000 bereaved individuals, the charity will also become a specialist sign-post service, providing education and training for health related bodies such as the NHS.
With dignitaries in attendance including the Lord Mayor of Manchester, Lord Mayor of Stockport, bereavement specialists, professionals and community leaders, the event will mark a momentous occasion, setting the foundations for the growth of a charity that has quickly become a national resource.
Following the unexpected death of her young nephew, Hafizah Ismail, became profoundly aware of the lack of support for families like hers, dealing with the emotional turmoil and heartache that comes with losing a child.
As a result of this difficult time, and understanding the need for an outlet that would specifically take into account Islamic beliefs, Hafizah developed the Children of Jannah, a charity that although intended to be a close network has become so extensive the decision was made to officially launch as a national service.
Hafizah comments: "It is quite overwhelming to recognise the sheer scale of Children of Jannah and all that it has become. I am immensely proud of the service that we offer and the support that the team deliver. We are experts in grief recovery and many of us have first-hand experience of the devastating loss of a child or baby.
"Through our knowledge of bereavement and the Islamic faith we are able to offer a pathway which turns helplessness into hope. Having already worked with so many people, who have since become ambassadors of the charity, I know that we will continue to expand and offer a greater number of services to those who need us the most."
As a certified Grief Recovery specialist and author of the book Sorrow to Serenity, which has been translated into several languages, Hafizah now works alongside a team of 4 experts to deliver the services offered by Children of Jannah, which include a telephone support service, bereavement support groups, bereavement support packs, counselling, mothers and fathers online groups, education and training sessions.
The Children of Jannah launch week, which runs from Sunday 20 – 28 October, will host a series of events including: 
 

Thursday: The launch of the Urdu version of the book Sorrow to Serenity, a leading publication offering 11 ways to help a mother find peace through the pain of child loss

Friday: Children of Jannah open day, giving members of the public the chance to see the team in action and experience the great work that they do.

Sunday: Family Fun Walk, encouraging families from around the world to have fun and raise money for the Children of Jannah charity.