 Mayor of Wolverhampton appeared at the city's Magistrates Court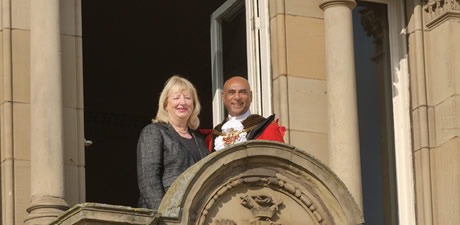 The Mayor of Wolverhampton appeared at the city's Magistrates Court – to see for himself the historic building.
Councillor Milkinder Jaspal was invited to take a tour of the North Street court by Bench Chairman Jill Parker.
The Wolverhampton Bench will be amalgamating with Dudley, Sandwell and Walsall Benches to become the new Black Country Bench next year, and the Mayor was invited along to help mark the end of an era.
Prior to the building of the Civic Centre in 1978, it was formerly the Town Hall, and Councillor Jaspal said: "It was very interesting to see the former Town Hall building.
"It is important that we remember the vital role that the building has played in the history of Wolverhampton – it has many stories to tell and, as one of the courthouses to be used by the Black Country Bench, I am sure it will continue to be an important local landmark for many years to come."
The building was designed in a French Renaissance style and its foundation stone was laid in 1869.
Among the numerous items of interest on show is a statue of George Thorneycroft (1991-1851), the industrialist who became the first Mayor of Wolverhampton after the borough was incorporated in 1848.
The statue was sculpted by John Thornecroft, who also produced the statue of Prince Albert in Queen's Square, and was originally placed by George Thorneycroft's grave in Merridale Cemetery. It was later moved to the Magistrates Court building on the instructions of Councillor Henry Fowler, First Lord of Wolverhampton.