 Theresa May praised British Muslims for their 'dignity' during visit to Mosque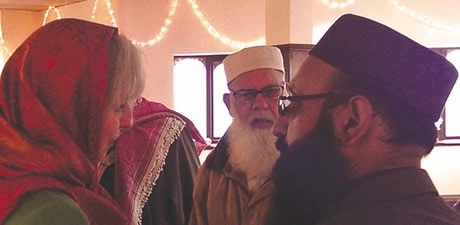 HOME Secretary Theresa May praised British Muslims in the Midlands for their 'dignity' during a visit to a Mosque which was targeted by a nail bomb earlier this year.
Ms May visited the Kanz ul Iman Mosque in Tipton where she met local religious leaders and the family of Mohammed Saleem who was murdered in April.
During her visit she toured the mosque and listened to a recitation of the Quran before taking part in a round table session with those impacted by the recent events. During the session she listened to their concerns and talked about the action being taken by government and police to tackle extremism.
Following the visit the Home Secretary said: "Nobody in this country should live in fear because of their faith. Planning or conducting terrorist acts of any kind is unacceptable and will be dealt with quickly, effectively, and with the full force of the law.
"I commend Muslims in the West Midlands for their resilience, unity and dignity during these terrorist incidents. They have demonstrated consistently that they will not allow groups or individuals to stoke up fear, hatred and division."
Ukranian student Pavlo Lapshyn, 25, is due to stand trial next year charged with the murder of Mohammed Saleem and offences related to explosions near Mosques in Tipton, Walsall and Wolverhampton.