 Leicester Entrepreneur Suleman Sacranie's starring role in Million Dollar Intern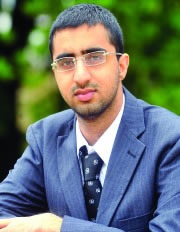 A young entrepreneur is set to star in a new TV series which sends business whizz kids into struggling firms to help save them.
Suleman Sacranie, whose business MadaboutDeals is based at De Montfort University's Innovation Centre, Leicester, is one of the stars of the new BBC programme Million Dollar Intern. 
The series, which started last month on BBC Worldwide, features six young successful business people who are sent undercover into a variety of companies facing a bleak future.
Posing as 'interns' in the companies, they were given just five days to get to assess the business and understand what the problems are – then two days to come up with and implement ideas to save them. Suleman's task was to help established family firm Havens, near Southend-on-Sea, to win back customers. When he arrived, there were an average of just nine customers a day.
"There were two staff for every customer," he said. "It had been going for 101 years and some of the staff had been there for 28 or 29 years. It was an institution. The way retail is going everyone is struggling. They were caught in the middle of it, and their products – china glassware – are not essentials, they are luxury items.
"We had to look at a way of making them into a destination store again. I found it a challenge. It's like going into someone's house and telling them: 'I don't like your wallpaper'."
With only the owners in on the secret of his identity, Suleman came up with the idea of exploiting Southend's location in fashion-conscious Essex and teaming up with colleges to offer beauty treatments and pamper products at Havens.
On his encouragement, Havens organised an open day and turnover was higher than the company had had for the whole year.
And when he returned three weeks later to check on progress, the store was getting 1,300 to 1,400 shoppers through the doors – a far cry from the nine a day when he started the challenge.
"It was quite daunting," he said. "It was not about me making the changes, but allowing the owners and staff to see what changes needed to be done. "The best bit was when I revealed myself. They were all quite sceptical about the changes suggested, but when they started to get results, I think they changed their mind!"
Suleman was chosen by the BBC as one of their Million Dollar Interns because of his success with the 99p Shopper and his new venture "MadAboutDeals" where he is already delivering Wholesale Food & Drink to businesses across the whole of the UK.
The company, which began in his back bedroom while he was studying at Leicester University, now employs 10 people and is now one of the leading wholesalers in the country.
He said he enjoyed the TV experience and would have liked more time to work with the company, but was still in touch with the owners at Havens. The TV crew also filmed some of the sequences in and around campus in the Hugh Aston and Innovation Centre.
BBC bosses are delighted with the series and are in talks to bring it to their UK channels.
Tracy Forsyth, vice-president commissioning, BBC Worldwide Channels said, "The concept of entrepreneurship, especially among young people, has great universal appeal, and I have no doubt that
Million Dollar Intern
will do to really well with our international audience. Outline Productions pitched a fantastic format, with huge potential to run and run – exactly the type of high quality, returnable series that I'm seeking for BBC Worldwide's channel portfolio."
Suleman's episode is featured on October 14 on BBC Worldwide.