 Shaker Aamer's case remains 'High Priority' for the British Government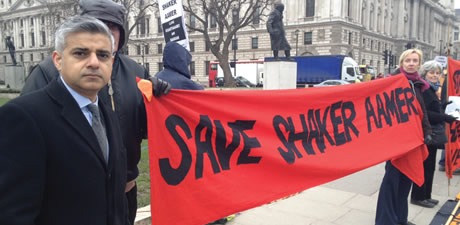 Shadow Justice Secretary Sadiq Khan has received Foreign Office reassurances that Shaker Aamer's case remains a 'high priority for the British Government' and that the UK Government continues to make it clear to the US that they want him released and returned to the UK as a matter of urgency. 
Following reports that the final remaining British detainee at Guantanamo Bay, Shaker Aamer, was being subjected to physical and mental abuse, including sexual abuse, Sadiq Khan MP called on Foreign Secretary William Hague MP, to raise the matter with the US Secretary of State, John Kerry. 
In response, the Government have now reassured Sadiq Khan that they will continue to raise Shaker's case with their US counterparts. 
Since becoming an MP, Sadiq has long campaigned on behalf of Shaker Aamer and his family for his safe return home to the UK and for the closure of Guantanamo Bay. Sadiq has lobbied both the Foreign Office and the Prime Minister on many occasions and attended demonstrations outside parliament. The case is also of great interest to many of his constituents, which include members of Mr Aamer's family. 
In April 2013, a petition calling for Shaker Aamer's safe return to the UK received more than 100,000 signatures. As a result the issue was debated in Westminster Hall. 
Sadiq Khan MP said, "I hope Shaker Aamer campaigners can seek some solace in these latest reassurances from the Foreign Office, but I remain concerned about Shaker's welfare for as long as he remains detained in Guantanamo. 
"Shaker Aamer has remained in prison, away from his family, for 11 years – and all the while never being charged with an offence, let alone being allowed his day in court. 
"I am pleased to hear that the UK Government is maintaining the call for Shaker Aamer's safe return to the UK, however I will continue to push the Foreign Office to work with their US counterparts to ensure that there is a resolution to this case sooner, rather than later".