 Man held at secure mental health facility over stabbings at Birmingham Mosque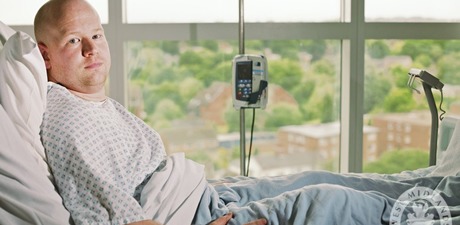 A WEST Midlands Police officer hailed a hero for tackling a Birmingham mosque knifeman says he owes a "massive debt of thanks" to worshippers who helped him overpower the attacker.
PC Adam Koch suffered multiple knife wounds when he confronted a man who'd stabbed three members of the congregation at Madrassa Qasim Ul Uloom mosque, Washwood Heath Road, on June 15.
Speaking from his hospital bed-side PC Koch – who underwent surgery for wounds to his stomach and side – described how the man lunged at him with a commando-style knife.
Despite suffering stab and slash injuries the 31-year-old managed to wrestle him to the ground and eventually prise the knife from his grasp.
But PC Koch was quick to thank worshippers who ran to his aid and bravely helped pin the attacker down. He said: "I owe those people a massive debt of thanks…if it wasn't for their help, bravely running towards a man they'd already seen brandishing a large knife, I may not be here today.
"As soon as I'm back on my feet I intend to visit the mosque and ask the imam to pass on my gratitude to the worshippers who put their own safety in jeopardy to assist me.
"In the end it was a great community effort to overpower the man and arrest him."
PC Koch and police partner Jean Stevens arrived on the scene four minutes after police received reports of a man attacking mosque members at 11pm on Saturday; it's understood he wasn't known to the prayer centre but turned up to join congregation for evening prayers.
"He charged towards me with the knife," added PC Koch, from Yardley Wood, who recently marked six years with West Midlands Police.
"I can remember falling to the floor and wrestling with the man and he tried thrusting the knife into my back. I'm waiting to see the damage to my stab vest as I'm convinced it's helped save my life.
"I managed to grab hold of his wrist and eventually disarm him; it was only then that my partner told me I'd been stabbed and blood was running from my shirt. I didn't feel anything at the time: the adrenaline took over and my focus was purely on stopping this man causing any more damage.
"Thankfully my injuries weren't as bad as they could have been and I hope to be back on the streets within a few weeks."
A 30-year-old man, from the Washwood Heath area, arrested at the scene is being held at a secure mental health facility until he's deemed fit for questioning on suspicion of attempted murder.
Two of the three injured worshippers were taken to hospital: a 28-year-old man who suffered multiple stab wounds and a 36-year-old man who had suffered a single stab wound to the thigh. A third victim suffered a hand injury and is now recovering at home.