 Crown Prosecution Service employees jailed after paying over £1m to bogus firm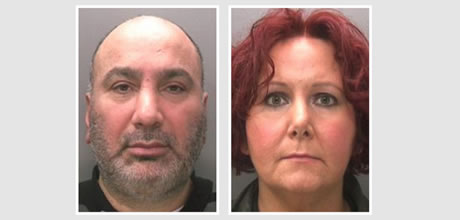 TWO Crown Prosecution Service employees have been jailed for making fraudulent claims and cheating the public purse out of more than £1 million.
Finance manager Lisa Burrows, from Titford Road, Oldbury and admin officer Tahir Mahmood from Eastbourne Avenue, Birmingham, were each sentenced to six years in prison this morning (30 August) at Birmingham Crown Court after pleading guilty to fraud by abuse of position at an earlier hearing in March.
Suspicions were initially raised about Burrows when a CPS colleague questioned the amount of money being paid to B&M Taxi Services. Auditors later uncovered illegible signatures on several invoices submitted by the 42-year-old.
Officers from West Midlands Police were informed in February and an investigation was immediately launched by the force's Economic Crime Unit.
They quickly identified Mahmood as a second suspect and enquiries would later uncover that the bank accounts on the taxi invoices actually belonged to him. He had set up the account using a pseudonym and a driving licence in his alternative name.
In reality the taxi firm never existed and over a period of five years a total of £1,021,475 of public funds was transferred into Mahmood's account.
The pair were arrested at their homes on Titford Road, Oldbury and Eastbourne Avenue, Birmingham on the morning of 27 February, less than five days after receiving the initial referral.
Police searched their addresses as well as the Crown Prosecution Service's offices at Colmore Gate in central Birmingham as part of the investigation.
Despite extensive enquiries, officers have never been able to fully account for all of the stolen cash although there was evidence that some of it had been used to fund holidays as well as the purchase of designer goods − much of which was later found to be counterfeit.
DC Mark Calvert led the inquiry. He said: "What we uncovered was a prolonged and systematic fraud by two people who ironically were employed by an organisation which prosecutes those who break the law.
"Using B&M Taxi Services, which we believe was simply short for "Burrows and Mahmood", both of them cheated the public purse out of more than £1 million.
"They naively thought they'd get away with it, but were caught as a result of their own greed.
"This was a gross breach of trust by two people who should have known better. They'll now have many years in prison to reflect on their actions."
Financial investigators are still working to try and trace the proceeds of the fraud with a view to recovering the stolen cash and returning it to the CPS, where it rightly belongs.