 Glastonbury in for treat as Brit Asian magician lined up to perform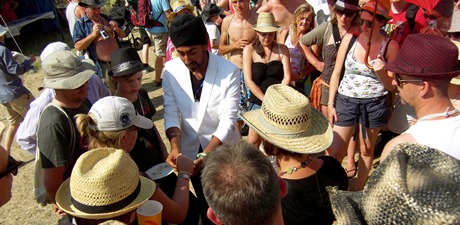 REVELLERS at this years Glastonbury festival will be rubbing their eyes in disbelief thanks to Magician Amardeep Singh Dhanjal.
Amardeep, who goes by the name Magic Singh, will rub shoulders with music heavyweights The Rolling Stones and Country legend Kenny Rodgers after he was asked to perform at Glastonbury's famous Circus Big Top!
Amardeep will debut a 5 minute special act that has not yet been seen by anyone in the world.
"I'm really excited as a magician and British Asian, that this will be an act people will talk about so get down to Glastonbury and join me in the Big Top", he said.
The young magician has already performed for a number of high profile celebrities including the Black Eyes Peas, Amitabh Bachchan and Hritikh Roshan.
Amardeep started performing at the age of eleven. His talent was unmistakable and just at the age of fifteen he became a member of 'The Young Magician's Circle'.
His mind blowing effects include, selected cards floating out of the pack, biting through coins and cards using his teeth, producing money out of paper, chosen playing cards discovered in impossible locations and spectators' watches appearing on his arm!