 Alisha Kadir to help raise funds for Birmingham Children's Hospital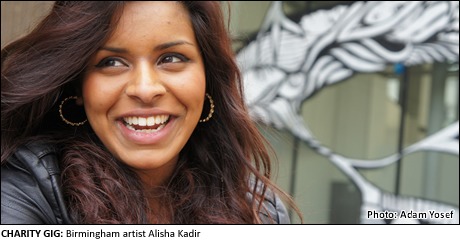 A YOUNG acoustic singer-songwriter from Birmingham is to perform in central Birmingham this week to help raise funds for the city's Children's Hospital.
Midlands-based musician Alisha Kadir – who has performed her personal and unique brand of acoustic, folk and easy-listening tracks in venues across the region – will be strumming her guitar at the city's urban bohemian hideaway, Café Blend, in Birmingham's Navigation Street.
Having gathered a keen following of fans following her YouTube and SoundCloud performances, 17-year-old Alisha was selected to join Derby musician and online sensation Charlie Pidcock – who already has three EPs to his name.
Only 21 himself, Charlie's journey from teenage 'YouTuber' and former band member to becoming one of the most promising and aspiring newcomers on the online music scene has seen him travel the world to perform; while citing amongst his fans the likes of McFly, Zebrahead, Bowling for Soup and classical award-winning composer Conor Mitchell. 
"It is such a wonderful chance to support Charlie Pidcock," explained Alisha.
"I admire anyone that can take steps to build their own career, especially in this harsh industry. I can't wait to add to my own experiences with this performance and watch that of a guy who has truly worked for his start in music at such a young age. The response he has got from his music online is something I could only hope to one day achieve."
The evening of intimate performances will include special original musical numbers as well as popular covers from Charlie, Alisha and fellow support artist Daniel Dobbs, a nationally recognised 19-year-old rock artist hailing from Nottingham.
Alisha, who describes her folk inspired music as observational pieces, feels she has a lot to express through her music and resides in a city which gives her the platform to do so.
"My songs are my observations of the world, from politics to soppier matters of the heart. I love music that spins a story for me, and try to bring that effect into my writing, giving my opinions in the midst of metaphorical tales, leaving the morals of the story entirely up to the listener. Similarly with music, an amalgamation of earthy folk, blues and minimalistic ideas create the atmosphere I want to direct into the minds of my audience."
"I adore Birmingham and all we have to offer, we are a plethora of cultures, an abundance of empowerment and most importantly a buzzing hive of sound. Our music scene is both the Home of Metal, with so many rock greats continuing their legacy and inspiring new generations of musicians, and the platform of Asian music in Britain, with such diverse influences we are creating such beautiful sounds in genres from across the board."
"The music scene in Birmingham really is a great opportunity from any musician that passes through."
The event, organised by Punk Zebra, is expected to raise money for the city's Birmingham Children's Hospital through tickets sales. The company's director Jamie Chapman said: "We wanted our acoustic music event to support a good local cause. BCH came to mind as we're aware of the fantastic work they do all year round to help children and their families."
'An Acoustic Evening with Charlie Pidcock' takes place at Cafe Blend in Navigation Street, Birmingham B5, on Friday 12th April between 6pm-9pm. Tickets are available from
www.theticketsellers.co.uk
for £6 or can be purchased on the door for £8.