 Uzair Akhtar, 6, suffers rare genetic disorder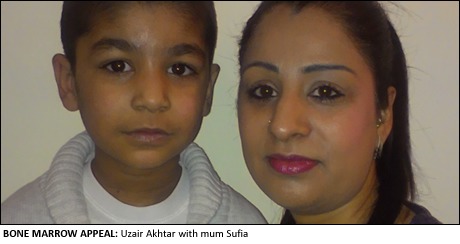 A BRADFORD family are calling on the Asian community to come forward to join the Anthony Nolan bone marrow register to help save the life of their 6 year old son.
Little Uzair Akhtar has a rare genetic disorder which means he needs a lifesaving bone marrow transplant. But so far charity Anthony Nolan which runs the UK's largest bone marrow register, can't find him a matching donor.
Uzair's mum Sufia says: "We knew something wasn't right with Uzair pretty early on. Despite being bright and bubbly, he was a very poorly baby and caught every bug he came into contact with. It was incredibly scary as although doctors knew there was a problem, they couldn't work out why he kept getting so sick."
"After a nasty bout of salmonella when Uzair was 4, the hospital started running more serious tests. They thought he might have leukaemia and we had an agonising wait for the results to see if his bone marrow was working. When these came back clear, they were at a loss."
It is only recently that Uzair has received a diagnosis. He has a very rare genetic disorder called Hyperimmunoglobulin E syndrome (HIES). With only 50 cases worldwide, it is caused by a mutation in his DOCK8 gene, which controls the body's response to infection.
Uzair's immune system can't fight the simplest infection – a common cold or cough could put his life at risk. To try and keep his condition stable, Uzair takes a daily cocktail of viral antibiotics and immunoglobulin therapy straight into his stomach.  
A bone marrow transplant from a matching donor is Uzair's only hope of a cure.
Sufia says: "When we heard a bone marrow transplant could cure Uzair we were over the moon. But this quickly turned to fear as our family was tested and no one was a match for Uzair. He needs a transplant from a stranger, but so far there's no one on the Anthony Nolan bone marrow register who's a suitable match."
Rebecca Sedgwick, National Recruitment Manager at Anthony Nolan, says: "We need potential donors from the Asian community to join the register to give patients like Uzair a chance of life. Patients who are white northern European have a 90% chance of finding a match, but this falls to 40% for patients from minority ethnic backgrounds."
Anthony Nolan and Uzair's family are holding a recruitment event on Tuesday 12th February at the Jamiyat Tabligh ul Islam Mosque in Lidget Green, Bradford.
Potential donors should be between the ages of 16-30 and in good health. Joining involves filling in a simple medical questionnaire and providing a saliva sample. Donating bone marrow is usually done through a process a bit like giving blood.
Sufia adds: "Uzair knows he's different, he says "mummy, I'm a bit more poorly than most people" and I explain it's because he needs some special blood to help him feel better. By signing up as a potential lifesaver with the Anthony Nolan register, you could give a family like ours the hope we desperately need."
Rebecca adds: "We're currently running a campaign to encourage Asian donors to join the Anthony Nolan register. Anyone aged 16-30 who can't attend the event can join online at
www.anthonynolan.org/thesixpercent
.'
Pioneering charity Anthony Nolan helps save the lives of people with blood cancers and blood disorders. Every day we use our register to match remarkable individuals willing to donate their bone marrow to people who desperately need lifesaving transplants.
Event details:
Date: Tuesday 12th February
Time: 11.30 – 3pm
Location: Jamiyat Tabligh ul Islam Mosque, Northside Terrace, Lidget Green, Bradford, BD7 2QU