 Mariam Alam, 3, died from fatal head injuries a year ago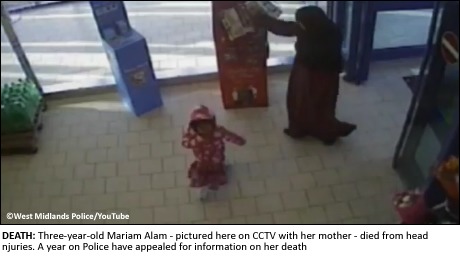 DETECTIVES investigating the mystery case of a Coventry toddler found with fatal head injuries a year ago are re-appealing for information on the first anniversary of her death.
Three-year-old Mariam Alam died in hospital on 30 November 2011 after ambulance crew were called to the youngster's aunt's house in Fisher Road, Foleshill.
A 35-year-old man and two women, aged 32 and 25, were arrested and later bailed but to date no-one has been charged over her death.
CCTV footage showing Mariam and her mother entering the nearby Lidl store has been released for the first time as West Midlands Police's sustained bid for answers continues.
Police have been handing out appeal leaflets – translated into several languages – in the local area and speaking to neighbours and passers-by in the hope of jogging people's memories.
Detectives are sure members of the local community have information that can help progress the enquiry.
And they're specifically appealing for an anonymous male caller, who phoned police on January 9 this year with information that led to two arrests, to get back in touch with the enquiry team.
Detective Inspector Chris Hanson from Coventry Police's Public Protection Department said: "To lose a child in such circumstances is unimaginable. This was always going to be a distressing and complex case for all involved but despite a number of initially positive lines of inquiry, one year on we are yet to fully understand what happened to Mariam or bring anyone to justice over her death.
"Someone out there knows what happened to Mariam and I'm convinced answers lie in the local community. That's why, 12 months on, I'm appealing to anyone with information – no matter how insignificant it may seem – about Mariam or what happened to her on the day she died to come forward.
"I am keen to understand where Mariam was, what she was doing and who she was with in the minutes between leaving Lidl and becoming critically ill.
"Someone may have even overheard a conversation in which people revealed details on the case which never appeared in the media.
"And I'd particularly urge the person who called us anonymously on 9 January to get back in touch."
The CCTV footage – available on the force's YouTube channel – shows Mariam wearing a red flowery dress, white tights and a pink coat walking in front of her mother as they enter Lidl in John Wigley Way at 1pm.
They can be seen leaving five minutes later – but at around 1.20pm paramedics were called to the address in Fisher Road after the child collapsed. Despite the best efforts of medics, the toddler couldn't be saved.
Anyone with information should call Det Insp Hanson on 101. Alternatively, people who do not want to speak with police officers directly can contact the independent charity Crimestoppers anonymously on 0800 555111.