 Runner Haroon Mota leads Coventry Half Marathon team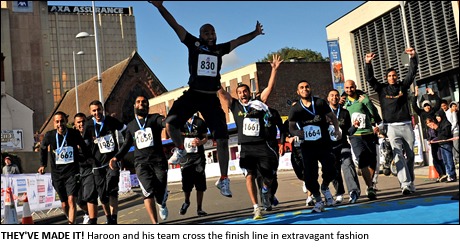 SEASONED Marathon runner Haroon Mota was at it again in the Coventry Half marathon last month – and this time he made sure he had company!
Haroon brought together a team of 23 to run the Marathon in aid Coventry Muslim School, an all girl's independent faith school that offers education up to GCSE level in line with the National Curriculum.
While Haroon is a regular on the Marathon circuit having run the Coventry Half marathon last year as well as the London Marathon earlier this year, five of the group were first time runners!
And it was a marathon effort by the runners, raising a phenomenal £6000 for Coventry Muslim School.
"When I ran the Coventry Half Marathon last year, I ran alone and was quite surprised by the lack of participation from the Asian community, and I felt I had to do something about it," Haroon told The Asian Today.
"It's the Asian communities that are highly affected by health inequalities, and it's not a coincidence that participation levels in exercise and sport are significantly low. So I felt it would be a great opportunity to get some of the Asian locals to take on the Coventry Half Marathon, especially considering 2012 is a special year for us, having hosted the Olympics."
Haroon was amazed at the fundraising commitment shown by the runners.
He said: "We had a pasta party the night before the marathon at the school and when we put all of the money together, it was an amazing feeling to see all the funds total up to £6000. Each runner had committed to £100 minimum sponsorship to take part, but majority of the group raised well in excess with several runners raising more than £500 each, and one runner Mohammed Malik even raising £700 alone."
Coventry businessman Riz Navsarka, whose company MesmerEyez.com, sponsored the team, said he was inspired by the efforts of the runners who ran as Team MesmerEyez.
"We at MesmerEyez are proud to have helped Haroon raise thousands of pounds for so many great causes over the years," Riz said.
"When he came to us this time, we jumped on board without hesitation; encouraging participation within the Asian community and raising much needed funds for a local school seemed like a great opportunity that we couldn't turn down. Haroon has done amazing in getting such a larger group together. I was totally amazed to hear that the guys raised £6000, and well done to all 23 of them for completing the 13.1 miles too. Team MesmerEyez have all inspired me, and I think I'll be getting my running shoes on for next year too."
And what of the runners themselves? Ayaz Maqsood, who at 42 was the eldest of the group, said he's already itching to get signed up for next year's marathon.
"It was exhilarating, rewarding and a really enjoyable experience from start to finish, knowing this was the furthest I had ever run," he said.
"It was pleasing to be running with brothers for a shared cause and I'm looking forward to taking part next year, God willing."
Rizwan Khan, from Redditch, who brought with him a team of five, said: "It was physically challenging for me personally, yet a very rewarding experience, when we see the undoubted happiness from the kids, teachers, and all involved at Coventry Muslim School, and the difference it makes to them and the school. It was a great effort from Haroon, the main organiser, and the team of 23 runners."
Naeem Ashique, Deputy Chairman of Coventry Muslim School added: "CMS, would like to say a massive thanks to Haroon and his running crew for their truly inspiring endeavors in the Coventry half marathon. The amount that was raised was significant and the much needed money that was raised will go towards IT equipment which includes school management software, interactive white boards, projectors, and much more.  
"All staff and pupils were absolutely overwhelmed with joy and look forward to using the new software and equipment. If Haroon makes this an annual event then CMS management have been inspired to join in as runners next year."