 Police appeal for information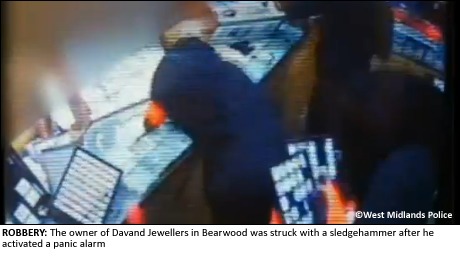 A JEWELLER escaped with minor injuries after being struck over the head twice with a sledgehammer by thieves during a daring afternoon robbery.
The four offenders struck at Davand Jewellers on Bearwood Road, Bearwood at round 4:30pm on Saturday 8 December, getting away with tens of thousands of pounds worth of stock.
They smashed down the front door to the shop and used sledgehammers to break into a glass cabinet in order to gain access to 17 trays of gold.
The thieves were dressed all in black and wore black and orange builders' gloves.
During the raid, the 52-year-old shop owner pressed a panic alarm, which prompted the offenders to strike him twice with the hammer. His wife was also present but was not attacked.
It is believed the robbers got away down St Mary's Road in a dark coloured car.
Officers are following up a number of lines of enquiry and have released CCTV footage of the robbery.
Detective Constable Steve Goddard, from Force CID in Harborne, said: "The victim was lucky to have got away with relatively minor injuries following what was an extremely nasty attack – there was no need for the level of violence used.
"I'm keen to hear from anyone who witnessed any of what happened or anyone who has any information about who may be responsible."
Anyone with information is asked to call Force CID in Harborne on 101 or the independent charity Crimestoppers anonymously on 0800 555 111.