 12-year-old Bilal Raffey Khizar dies after being struck by car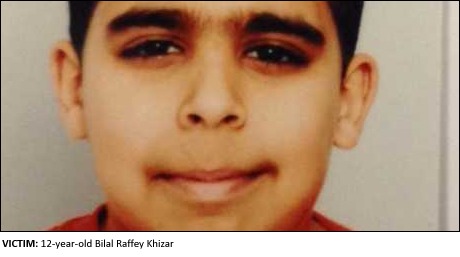 THE Independent Police Complaints Commission is investigating a Bradford hit and run which claimed the life of a 12-year-old boy.
Youngster Bilal Raffey Khizar died after he was hit by a car on Rooley Lane, Bradford on Saturday.
Police revealed the car, a red coloured Seat Ibiza, sped away from police after it was stopped for a check. Moments later it collided with Bilal and sped away from the scene where it collided with two other vehicles.

The vehicle was later recovered on Westfield Lane, Wyke.
Two people are currently in police custody in relation to the hit and run.

A statement released by West Yorkshire Police said: "The vehicle had stopped in the lay-by on Rooley Lane. As officers got out of their vehicle to speak to the driver the car immediately made off at speed along Rooley Lane. Officers got back into their car and followed it. The collision happened moments later.

Because the collision happened immediately after police contact, with officers in initial pursuit, the IPCC were contacted and one of their investigators attended the scene to undertake their independent assessment into the police role."
Police are now appealing for witnesses to come forward.
Detective Superintendent Mark Ridley of the Homicide and Major Enquiry Team who is leading the investigation, said: "This is a tragedy for the family and they are absolutely devastated. Specially trained officers are currently working with them.  I am appealing directly to anyone who saw the vehicle being driven or the incident to get in contact.

"I need the community to come forward and tell me what has happened and what they have seen to help bring justice to the family."

Any witnesses are asked to contact police on 101 or Crimestoppers on 0800 555111