 Birmingham man Mohammed Arif jailed for six years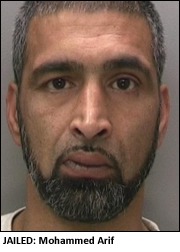 A COURT has heard how a man concealed a powerful handgun in a cot next to a sleeping child.
Mohammed Arif was convicted of possessing a firearm at Birmingham Crown Court and was sentenced to six years imprisonment, following the discovery in May earlier this year.
In the early hours of the morning police were called to a domestic dispute between a man and a woman in Foxwell Road, Bordesley Green, where the discovery was made. The couple were found a short distance away, but the officers discovered the child home alone.
The antique Russian Smith and Wesson .44 revolver was found wrapped in a blanket in the child's cot just yards from where he was sleeping on a bed, with a loaded chamber and was fully operational. Alongside it officers also discovered a machete.
Arif, aged 42, was arrested nearby and charged with possession of a firearm. He initially denied all knowledge of the weapons, saying they had been put there by someone else, but forensic experts recovered his DNA from the trigger guard and the ammunition in the chamber, proving conclusively that he had handled the firearm.
Detective Constable Paul Vinall, from the Force Criminal Investigation Department, said: "This was a very powerful handgun, with a fully loaded chamber, which could have had devastating consequences if fired.
"There was a child alone just feet away from these two lethal weapons. Each of those six bullets could have killed someone.
"This man claims to have been keeping the gun for someone else, but the sentence shows how seriously the courts take gun crime. Not only was a child's life put in danger, he now faces six years in prison."
Under the current law anyone found guilty of possessing an illegal firearm faces a minimum sentence of five years in prison.