 Two new scenes to be shot at University of Leicester's Percy Gee Building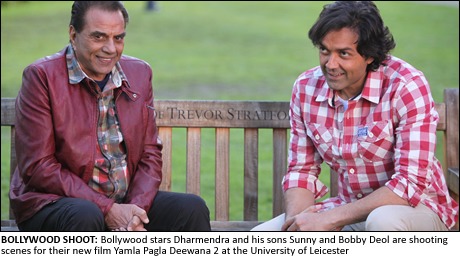 AN award-winning University of Leicester building will provide the setting for two scenes from a Bollywood film Yamla Pagla Deewana 2.
A crew of 100 crew along with stars Dharmendra, Sunny Deol and Bobby Deol, arrived on campus in September and have used the University's botanic garden as a base for filming.
After filming in other parts of the city and county, the crew are returning to the University of Leicester's Percy Gee Building, which houses the Students' Union, on Sunday 14 October.
They will film a cocktail party scene and auction scene in the building- and a call has gone out across the University for 100 extras.
University Asset Manager Dharminder Shoker – who also landed a role in the film- has been working with the crew over the logistical arrangements.
He said: "We are delighted to host the Deol Dynasty again – they are a powerhouse of talent and it is a privilege to watch the making of this movie.  It is also a real opportunity for our film studies students to get to grips with the art of filmmaking."
Sunny Deol, one of the lead actors of the movie, added: "The Percy Gee Building offers superb space for two important scenes.  We are really grateful to the University and the Union for how accommodating they have been."
Ather Mirza, spokesperson for the University of Leicester, said: "This is the third Bollywood film to be shot at the University – the Deols have become familiar faces on campus and it is a treat for our new and returning students to have stars of such calibre on our premises."
The film is produced by YPD Films Ltd (UK) and Sunny Sounds Pvt Ltd. (Sister Concern of Vijayta Films Pvt. Ltd.)