 Bollywood Interview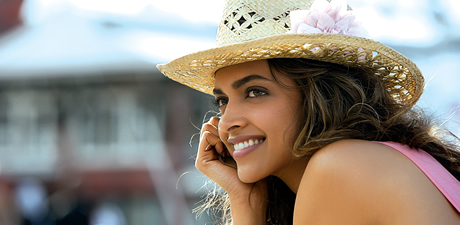 A nervous Deepika Padukone spoke to Asian Today's Bollywood reporter Sunny Malik about her upcoming film Cocktail, directed by Homi Adajania and also starring Saif Ali Khan and debutante Diana Penty.
Deepika is nervous every time a film she is a part of, is about to release and this time it is no exception. In fact, Cocktail is most likely the 26-year-old's most special project so far. The sultry actress plays the role of Veronica, a modern London girl. Cocktail is highly anticipated and even leading actor Saif Ali Khan has admitted that Cocktail already is much hotter than Agent Vinod ever was. 
In this interview, Padukone who was last seen in Desi Boyz, talks about London, the film, her co-stars, director and much more.
You shot films in London before as well for example, Housefull, Desi Boyz and Love Aaj Kal. Does it not get boring to shoot in almost the same locations again and again?
Absolutely not, in fact, I must tell you that this time I am missing London a lot. Ever since I started my career about three to four years ago, something or the other has always brought me back to London. It started with Om Shanti Om, my first film premiere was in London after which I shot Love Aaj Kal and the following year I shot Housefull in London. Last year, I felt like a resident of the UK because I filmed Desi Boyz and Cocktail back-to-back here. Now we are six months into this year and I have not been to London. I am getting withdrawal symptoms already.
Can you tell us about the London locations that you shot the film in?
You'll know better than I do (laughs).
I was on set only for two days (Laughs).
We shot at The Grand nightclub in Clapham Junction, where I met you last year. We also shot a lot in Hyde Park and Battersea Park. We have also filmed a lot on the streets and in houses. But primarily, we have shot a lot outdoors.
You also shot in Cape Town. Will it be shown as Cape Town in the film or are you cheating locations?
No, No. It will be shown as Cape Town in the movie. How can you cheat London in Cape Town? (Laughs)
I don't know. People sometimes do these things. (Laughs) Also, was it difficult to shoot outdoor in London with fans watching, taking photos and screaming out your name?
I actually prefer shooting outdoor. I am always happier shooting outdoor than shooting on a set. But, yes, sometimes it does get difficult. 
People are comparing you to Diana Penty, who will make her debut with this film. How do you feel about this because I know that you got along well on the sets in London? 
Yes, we did. We got along on set. But that is actually my only interaction with her. I think we did one or two shows together while we were both modelling but we did not really interact back then.  My real interaction with her started only on this film.
Tell us a little bit about your character Veronica. What is she like?
Veronica is a girl who lives life on her own terms. She is fearless, super confident and a very sexy girl. She did not have the most stable upbringing because her parents were divorced. She did not have the love of a family. She has grown up surrounding herself with a lot of friends. She loves going out and enjoys drinking. She likes being out with people and with friends. They sort of fill that void in her life until she meets Gautam (Saif Ali Khan) and Meera (Diana Penty) who are actually much more than that. They give her emotional support that she probably did not have while growing up. She does not live life the way society expects her to be. She has no qualms about that. Veronica is not apologetic about the way she is. She does crave attention once in a while when she goes out. She knows when she walks into a nightclub, she will get all the attention. But deep down inside she is a very loving girl, she wants a normal life. In spite of her living this lifestyle, she is from a really rich family and her father gives her this fat juicy cheque every month, she wants normalcy.
Does Veronica believe in love?
There is a part of her that is not completely for it. Maybe she is not very trusting at a certain level because she has seen her parents go through so much that emotionally somewhere it is clear in her mind. But at the same time, when she sees romance and real people around her, she craves that and not just in terms of a relationship. She also craves for family and some form of stability.
I have heard about your adventures in Cape Town with director Homi Adajania. How was it working with him?
We actually keep making fun of him saying that he is only doing Cocktail because Being Cyrus did not do really well and he never tasted success. He finally succumbed to making a so-called commercial film in his head. He is great fun. For me playing Veronica was a lot easier because I had him as the director.  He is the male version of Veronica actually. (Laughs)
Have you become friendlier now with Saif as he told me that it was slightly awkward between you two during Love Aaj Kal?
I think, I am a lot more comfortable working with him with every film that I do. You know, we both feel that in spite of us having done four films together, it does not feel repetitive. Maybe it is the kind of films that we are doing or maybe it is the characters we are playing. But I don't feel like I have done four films with him.
You said in an interview that it took you some time to get out of the character of Veronica. What was it about the character that was stuck with you?
It was the emotional journey Veronica went through and I went through with that character. I got attached to the character very early on in the film and even Homi says that there was a point after a few days of working with each other, he stopped directing me. He had to give me no direction and he believes that only happens when the actor and director are on the same page. I think, it was an emotional roller-coaster for me and that is why it took me so long to get out of it.
You said no to quite a lot of fans when they asked you for photographs in London during the shoot. Was that also because you were so attached to your character?
Yes, while I respect people wanting to take pictures and autographs this is exactly what I was saying earlier on. When I am on set, especially with this character, it needed a lot of focus and concentration. I think, emotionally it was seriously like a yo-yo for me.  There days when it was really, really draining. I needed more than a hundred percent focus on some of my scenes and on certain days.   
There is some online negativity that comes your way on Twitter. How do you cope with that?
You know, for all the love, the entire fan following and all the appreciation that I get, a little bit of negativity is okay. I can deal with it. I guess, at the end of the day, I work to hopefully convert all of them my fans as well. (Laughs)
What are your expectations from the UK audience for Cocktail?
I hope people relate to the film and I am pretty sure, they will. It is very relatable which is why people feel that it looks fresh. Ever since the first promo came out, there has been a lot of positive reaction towards the film and promos. A lot of that comes from people identifying with situations or characters. With this film, I am going to be a bit selfish and say that I hope when people watch the movie, people feel for the film as much as I do.
Produced by Saif Ali Khan, Dinesh Vijan and co-produced by Sunil Lulla, this summer's most awaited  film Cocktail will be released through Eros International in  UK cinemas on 13th July 2012.