 Komor Uddin, 62, not seen since 23 June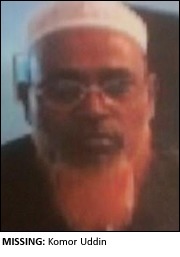 POLICE are urgently appealing for information on the whereabouts of an Islamic tutor who has not been seen or heard for weeks.
Komor Uddin, from Mansfield, Nottingham, was last heard from on 23 June, when he sent a message to the family of one of his students to say he had been admitted to hospital.
The 62-year-old is not known to have any medical issues and enquiries with hospitals across the region have so far not managed to locate him. He has links with the Scunthorpe area, but he has not been traced there either.
Mr Uddin is described as being of Asian appearance with a reddish-coloured beard.
He is around 5ft 7ins tall and habitually wears a white cap, known as a taqiyah or topi, favoured by devout Muslim men.
Anyone who believes they have seen Mr Uddin or knows of his whereabouts should telephone Nottinghamshire Police on 101, and ask for Sgt Dean Dakin on extn 805 3266.