 Student Asef Ali Mohammad officially best student photographer in the world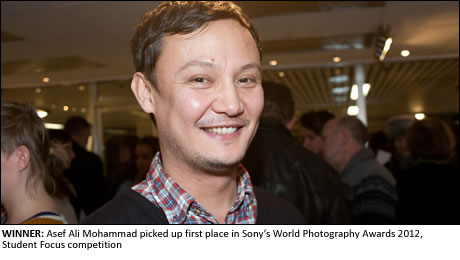 STUDENT Asef Ali Mohammad is officially the best student photographer in the world after winning a prestigious international Sony photography award.
It was a night to remember for the final year Middlesex University photography student from Friern Barnet at London's Park Lane Hilton Hotel, as he picked up first place in Sony's World Photography Awards 2012, Student Focus competition.
Since being shortlisted for the prominent prize in February Asef has worked tirelessly to put together a new collection – this time he went to Kabul to photograph young artists in the Afghanistan capital.
Asef, who moved to the UK 10 years ago from Pakistan, said: "I am absolutely ecstatic. To win in front of so many prominent photographers was fantastic and great exposure – I'm so happy!
"Normally when photographers go to Afghanistan, they take graphic images of the problems and warzones of the country. I wanted to show a different, lighter side to Afghanistan, a side which is often forgotten."
Asef was up against a cast of nine other students from as far away as Russia, Argentina and China competing in the final. The finalists' work, including Asef, will now be exhibited at as part of World Photo, at Somerset House, London from 27 April – 20 May.
Student Focus is a high-profile international student photography award open to all universities across the globe which run a photography course. This year the competition attracted entries from over 200 institutions across six continents. The award was presented by Yoshiyuki Nogami, Vice President of Digital Imaging at Sony Europe.
Virginia Morrison (US), Executive Director of the Society for Photographic Education and judge, said: "Given the thematic emphasis for the competition, 'colour', I was surprised at how I was drawn to the winner's very subtle use of colour in each image in the series. The use of the direct gaze of the subjects in the portraits was terrifically enhanced by each subject being placed within an environment that employed colour as a structural framework in which to present and emphasise that direct gaze of each of the sitters.  The colours employed were actually very subtle, but the artist used it consistently and skillfully as architecture for the portrait."