 Sushmita Sen planning trip to Leicester this month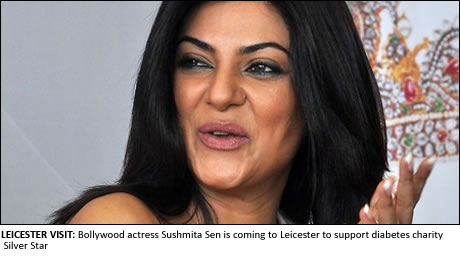 BOLLYWOOD superstar and India's first Miss Universe, Sushmita Sen, will sprinkle stardust over Leicester when she comes to support diabetes charity Silver Star.
The Indian actress has been invited to Leicester by the charity's founder-patron Leicester East MP Keith Vaz who was diagnosed with diabetes 5 years ago.
 In a whirlwind visit she will launch Mr Vaz's anniversary appeal for Silver Star, which will mark his twenty five years as the Member of Parliament for Leicester East. The appeal is designed to raise funds for further mobile diabetes testing units in Mumbai and the Midlands.
So far Silver Star units have tested 25,000 people in schools, communities, businesses and villages for free resulting in diabetes caught early and many lives and limbs saved.
 Her visit will culminate in the hotly-anticipated launch of Silver Star's raffle prize, a new Kia Picanto at the Sandicliff Kia's Red Cube dealership in Leicester.
For just £1, participants will have the chance to take delivery of the £8,000 car in October this year. The unique car will be signed by Ms Sen and by Bollywood legend Amitabh Bachchan when he visits the city in June.
 Ms Sen will also launch the inaugural Silver Star Fun Run. The fun run will take place on 25th July and will raise awareness of the importance of an active and healthy lifestyle in preventing obesity and linked conditions such as diabetes. Thousands are expected to take part.
Speaking about the visit Keith Vaz MP said: "I am delighted to be marking my 25 years as Leicester East's representative in Parliament with an appeal for this extremely important cause. Sushmita is the first of a number of special guests who will be visiting Leicester to support the appeal. If only I was aware of what could be done with diet and exercise to prevent diabetes, I might never have developed it. With 850,000 people in the UK living with undiagnosed diabetes, Silver Star's work is vital."
 Dr Modhwadia, Chairman of Silver Star added: "It is a privilege for us to have Sushmita give up her valuable time to our worthy cause. It is only through celebrities like her that we are able to remind people of the importance of being tested for diabetes. From its small beginnings in Leicester, the Silver Star operation now spans 3 continents and has tested tens of thousands of people."