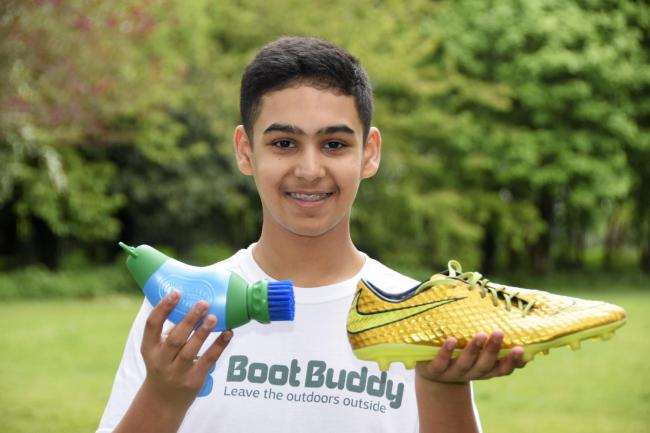 Teenager Arminder Singh Dhillon won over the dragons in famed reality show Dragons Den with Boot Buddy, a device that quickly cleans muddy footwear.
Dhillon created the Boot Buddy at 11-years-old after his mother complained repeatedly about him entering the house with muddy shoes. The teenager combined a water bottle, plastic knife and washing up brush to clean his boots after football practice one day, inadvertently creating a prototype of the Boot Buddy.
With the support of family Dhillon drew up a design, then turned into a 3D model and eventually a functional product. The family unit then stepped into Dragons Den, a reality show where budding entrepreneurs seek investments for their ideas from five steely business people. Famous business magnates include Peter Jones and Deborah Meaden.
To Dhillon's delight, three dragons agreed to invest in the young inventor. Touker Suleyman, Peter Jones and Deborah Meaden all pledged £20,000 for a 10% share of the business.
Arminder said, "The whole experience is indescribable. I'm still amazed at having seen my idea become an actual product and to now have the support of three such inspirational business people is incredible!
"Stepping in to the Dragons' Den was definitely daunting but I'd rehearsed my pitch thoroughly and I had my mother and brother by my side for support so I wasn't too nervous."
Peter Jones proudly stated, "We're so impressed by Arminder. He's come up with a fantastic product and had the drive and determination to see it through.  He's leading the way for the next generation of great British business people."
Boot Buddy efficiently cleans tough muddy shoes and boots with only 300ml of water and a couple of minutes.
Dhillon went on, "A large part of the dragons' investment will be spent on marketing to take Boot Buddy to a wider audience.
"I plan on attending various trade shows and festivals both in the UK and abroad. I hope Boot Buddy will one day become a household name saving people hours of wasted time by changing the way they clean their muddy footwear forever."