 Charan Gill begins new career as stand-up comedian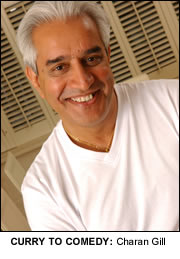 CURRY King Charan Gill MBE will swap Tikka for Tickles next week as he begins a new career as a stand-up comedian.
The former shipbuilder who founded his Harlequin Leisure Group in Glasgow in 1994 and built it into Europe's largest chain of Indian restaurants before selling it in a multi-million pound deal in 2005 is now determined to breakthrough in the notoriously cut-throat world of stand up comedy.
And his first stop is The Stand Comedy Club in Glasgow NEC on 14 October.
Revealing what inspired him to embark upon such a radical career move, Charan said: "I was in The Stand Comedy Club in Glasgow scouting for a comedian to book for The Hottest Night of the Year, the annual charity fundraiser I organise, when I had an epiphany and realised that I'd always wanted to be a comic.
"When I sold my restaurants I was looking for fresh challenges – and being a stand-up comedian is certainly a fresh challenge!"
Charan's comedy routine will centre on Glasgow's love for curry and give a humorous insight into what goes on in Indian restaurants on an average Saturday night.
"Believe me – I've got plenty of material!" he said. "And, who knows, today The Stand, tomorrow I could be headlining at The London Palladium, so all booking agents looking for a laugh better make sure they're in the audience on Tuesday 14th!"