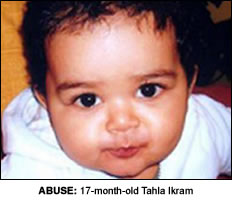 THE STEP MOTHER and father of a 17-month-old boy tortured to death have been jailed for nine years.
Sumairia Parveen and Abid Ikram were found guilty last month following the death of Tahla Ikram.
The youngster was burnt with a cigarette and had his leg repeatedly sliced open until his tendons and veins were exposed, Southwark Crown Court heard during the five-week trial.
The duo, both from Ealing, west London, were cleared of murder but convicted of causing or allowing the child's death.
Ikam received a further 12 months on top of his sentence for perverting the course of justice.
Southwark Crown Court heard young Tahla was taken to hospital six times in the 20 days preceding his death yet doctors failed to spot the abuse.
Tahla had been taken away from Ikram in March 2006 after the couple left him alone in the house while they went out.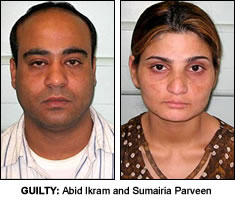 He was placed with foster carers but just months later was returned to Ikram.
Parveen, who has left her abusive husband for Ikram, felt Tahla threatened her relationship with his father, the court heard.
She subjected the tot to a horrendous period of abuse as his father stood by and did nothing.
He suffered a broken thigh and shin and three fractured ribs. A post-mortem found Tahla died from marrow fat deposits in his lungs, caused by broken ribs, which starved his brain of oxygen.
During the trial Parveen denied causing harm to Tahla saying she loved him "as if he was my own."
But it took the jury just six hours over two days to unanimously decide she was lying.
Both were cleared of murder but found guilty of "causing or allowing the child's death".