 40-year-old amasses an incredible 4,000 toy cars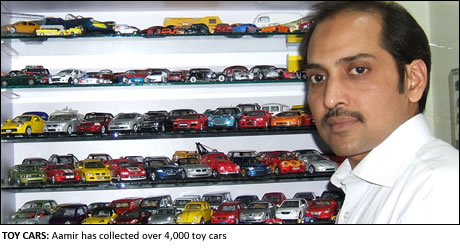 AAMIR Ashfaq is proving men really do love their cars!
To say the 40-year-old married dad from Lahore is a car fanatic is somewhat of an understatement looking at his remarkable collection of over 4,000 toy cars!
Aamir has spent three decades building up his vast collection – and he has no plans to stop.
The 40-year-old houses his collection is a specially built showroom in the Lahore home he shares with his wife and three daughters Iman, Rimsha and Asma.
"It may be childish," Aamir tells The Asian Today, "but I never feel odd living with my cars. "When I was young, toys always had a special place in my heart, and I really liked trains and airplanes too. In fact when I was very young, my parents tried to get me more interested in trains and airplanes but I always came back to my first passion, cars."
Aamir started collecting cars when he was only eight years old, and since then has spent one hour every day with his cars. He even has a sort of ritual — every day, he'll pick up a different toy car, place it in the palm of his hand, and enjoy the moment.

"I don't know why," says Aamir Ashfaq, "but I'm really attracted to cars and I feel extremely happy when I'm in my toy-car showroom."

His collection is pretty impressive. Over the years, Aamir has managed to collect model cars linked to famous personalities — he has cars modeled after the wheels that James Bond, Mr Bean, and Batman would choose to drive. He also has a collection of  luxury cars, antique cars, vintage cars, sports cars, formula 1 cars, NASCAR and movie cars like Knight Rider, Back to the Future and Fast & Furious Series.
"Each of my cars has a history," says Aamir. "Memories may fade with time but these cars take me back to moments in the past. When I hold a car in the palm of my hand, I remember things I had forgotten about the past, and this gives me immense joy. In fact, I can't explain it in words."
Aamir insists that his toy cars do not interfere with domestic bliss.
"I have no big dreams … I just want to collect cars," he says. "My love for cars never bothered my family because I know how to balance my time between both."

"In fact," he adds, "the room in which I house my cars is like my fourth child and my three daughters help me manage it, so it brings us closer."
Although Aamir's collection is not recognized as an official world record, he believes he has the biggest collection in Pakistan.
One thing is for sure, Aamir won't be slamming on the brakes anytime soon as his collection goes from strength to strength.